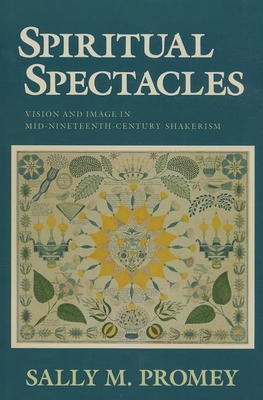 Spiritual Spectacles (Hardcover)
Vision and Image in Mid-Nineteenth-Century Shakerism (Religion in North America)
Indiana University Press, 9780253346148, 326pp.
Publication Date: March 22, 1993
* Individual store prices may vary.
Description
"Promey's book is a penetrating analysis of Shaker art.... The book is a gem, a true advance in Shaker studies, art history, religious history, and cultural history. Highly recommended." --Choice
"... a very intelligent and articulate... treatment of a stunning set of message-images." --Art Bulletin
"This book is a pleasure to look at and to read." --Religious Studies Review
" A] fascinating investigation into another world. The Shaker spirit drawings... offer clues into a remarkable moment of American life, as well as an opportunity to rethink just how the visual arts, religious revitalizations, and social memory relate to one another.... A] model study: clear, absorbing, and significant." --Neil Harris, author of The Artist in American Society
"Sally Promey's inquiry... critically engages current issues in the study of visual culture: what do images do; how do they work; what needs do they fulfill; just what is their 'power'? Her compelling case study joins fundamental concerns of art historians with those of students of religion and history... By means of an exacting examination of Shaker drawings as the site of both expectation and encounter, Promey successfully situates these Spiritual Spectacles at the meeting point of the 'inner' and the 'outer' eye." --Linda Seidel, author of Jan van Eyck's Arnolfini Portrait: Stories of an Icon
"Promey has brought to her work an excellent sensitivity to the religious issues involved, keen sight and powers of observation, and a very creative interpretive framework." --Stephen J. Stein, author of The Shaker Experience in America
About the Author
SALLY M. PROMEY is currently Assistant Professor in the Department of Art History and Archaeology at the University of Maryland at College Park.