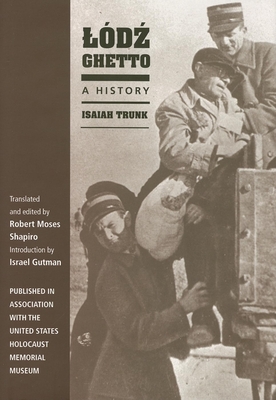 Lodz Ghetto (Hardcover)
A History
Indiana University Press, 9780253347558, 493pp.
Publication Date: June 1, 2006
Other Editions of This Title:
Paperback (1/21/2008)
* Individual store prices may vary.
Description
In his comprehensive examination of the L dz Ghetto, originally published in Yiddish in 1962, historian Isaiah Trunk sought to describe and explain the tragedy that befell the Jews imprisoned in the first major ghetto imposed by the Germans after they invaded Poland in 1939. L dz had been home to nearly a quarter million Jews. When the Soviet military arrived in January 1945, they found 877 living Jews and the remains of a vast industrial enterprise that had employed masses of enslaved Jewish laborers. Based on an exhaustive study of primary sources in Yiddish, Hebrew, Polish, German, and Russian, Isaiah Trunk, a former resident of L dz, reconstructs the organization of the ghetto and discusses its provisioning; forced labor; diseases and mortality; crime and deportations; living conditions; political, social, and cultural life; and resistance. Included are translations of the 141 documents that Trunk reproduced in his volume.
About the Author
Isaiah Trunk (1905-1982) was Senior Research Associate and Chief Archivist at the YIVO Institute for Jewish Research. He is author of Judenrat: The Jewish Councils in Eastern Europe under Nazi Occupation.Robert Moses Shapiro is Assistant Professor of Judaic Studies, Brooklyn College, City University of New York. He is editor of Holocaust Chronicles: Individualizing the Holocaust through Diaries and Other Contemporaneous Personal Accounts.
or
Not Currently Available for Direct Purchase