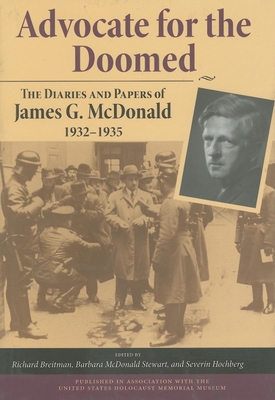 Advocate for the Doomed
The Diaries and Papers of James G. McDonald, 1932-1935
Hardcover

* Individual store prices may vary.
Description
The private diary of James G. McDonald (1886-1964) offers a unique and hitherto unknown source on the early history of the Nazi regime and the Roosevelt administration's reactions to Nazi persecution of German Jews. Considered for the post of U.S. ambassador to Germany at the start of FDR's presidency, McDonald traveled to Germany in 1932 and met with Hitler soon after the Nazis came to power. Fearing Nazi intentions to remove or destroy Jews in Germany, in 1933 he became League of Nations High Commissioner for Refugees and sought aid from the international community to resettle outside the Reich Jews and others persecuted there. In late 1935 he resigned in protest at the lack of support for his work.
This is the eagerly awaited first of a projected three-volume work that will significantly revise the ways that scholars and the world view the antecedents of the Holocaust, the Shoah itself, and its aftermath.
Indiana University Press, 9780253348623, 864pp.
Publication Date: April 25, 2007
About the Author
Richard Breitman is Professor of History at American University. His books include The Architect of Genocide: Himmler and the Final Solution and (with Alan Kraut) American Refugee Policy and European Jewry, 1933-1945(IUP, 1988). He is editor of the journal Holocaust and Genocide Studies. He lives in Bethesda, Maryland.Barbara McDonald Stewart has taught at George Mason University and is author of United States Government Policy on Refugees from Nazism, 1933-1940. She lives in Vienna, Virginia.Severin Hochberg is a historian at the Center for Advanced Holocaust Studies at the United States Holocaust Memorial Museum. He lives in Washington, D.C.