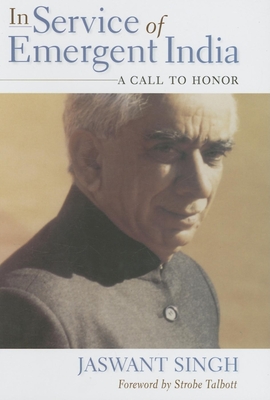 In Service of Emergent India (Hardcover)
A Call to Honor
Indiana University Press, 9780253349361, 359pp.
Publication Date: September 21, 2007
* Individual store prices may vary.
Description
In Service of Emergent India is an evocative insider's account of a crucial period in India's history. It provides an in-depth look at events that changed the way the world perceived India, and a unique view of Indian statecraft. As Minister of External Affairs, Defense, and Finance in the BJP-led governments of 1996 and 1998-2004, Jaswant Singh was the main foreign policy spokesman for the government of Atal Bihari Vajpayee during the 1998 nuclear tests by India and Pakistan, the hijacking to Kandahar, Afghanistan, of Indian Airlines flight IC 814, and the Kargil conflict between India and Pakistan, as well as other key events. In an account that is part memoir, part analysis of India's past and future prospects, Singh reflects on his childhood in rural Rajasthan at the end of the colonial period, his schooling and military training, and memories of Indian Independence and the Partition of India and Pakistan. He analyzes the first four decades of Indian nationhood under Congress Party rule, ongoing tensions between India and Pakistan, Sino-Indian relations, and post-9/11 U.S.-Indian relations.
About the Author
Jaswant Singh is an authority on Indian foreign policy and national security. He is among the most respected names in the country's public life, and in the world of diplomacy. A former officer in the Indian Army, he has served seven terms in India's Parliament and is currently the Leader of the Opposition in the Rajya Sabha, Parliament's Upper House. He lives in New Delhi, India.