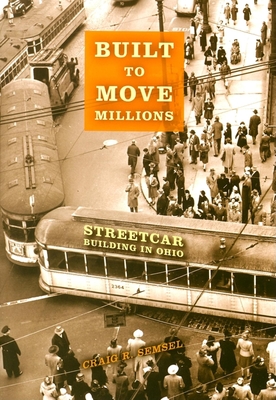 Built to Move Millions (Hardcover)
Streetcar Building in Ohio (Railroads Past and Present)
Indiana University Press, 9780253349859, 293pp.
Publication Date: April 17, 2008
* Individual store prices may vary.
Description
At the beginning of the 20th century, the street railway industry was one of the largest in the nation. Once ubiquitously visible on the city streets, by mid-century the streetcar was nothing more than a distant memory. Ohio was home to several large streetcar systems, especially in Cleveland and Cincinnati, and had more interurban tracks than any other state in the union. Thus, Ohio served as one of the street railway industry's greatest centers of manufacturing.
Built to Move Millions examines the manufacture of streetcars and interurbans within the state of Ohio between 1900 and 1940. In addition to discussing the five major car builders that were active in Ohio during this period, the book addresses Ohio companies that manufactured the various components that went into these vehicles.
About the Author
Craig R. Semsel teaches history at Lakeland Community College in Ohio. He lives in Lakewood, Ohio.