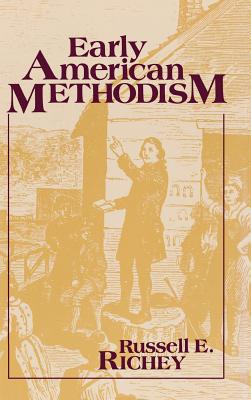 Early American Methodism (Religion in North America) (Hardcover)
Indiana University Press, 9780253350060, 164pp.
Publication Date: November 22, 1991
* Individual store prices may vary.
Description
Offering a revisionist reading of American Methodism, this book goes beyond the limits of institutional history by suggesting a new and different approach to the examination of denominations. Russell E. Richey identifies within Methodism four distinct "languages" and explores the self-understanding that each language offers the early Methodists. One of these, a pietistic or evangelical vernacular, commonly employed in sermons, letters, and journals, is Richey's focus and provides a way for him to reconsider critical interpretive issues in American religious historiography and the study of Methodism. Richey challenges some important historical conventions, for instance, that the crucial changes in American Methodism occurred in 1784 when ties with John Wesley and Britain were severed, arguing instead for important continuities between the first and subsequent decades of Methodist experience.
As Richey shows, the pietistic vernacular did not displace other Methodist languagesWesleyan, Anglican, or the language of American political discoursenor can it supplant them as interpretive devices. Instead, attention to the vernacular severs to highlight the tensions among the other Methodist languages and to suggest something of the complexity of early Methodist discourse. It reveals the incomplete connections made among the several languages, the resulting imprecisions and confusions that derived from using idioms from different languages, and the ways the Methodists drew upon the distinct languages during times of stress, change, and conflict.
About the Author
Russell E. Richey is Professor of Church History in the Candler School of Theology at Emory University.