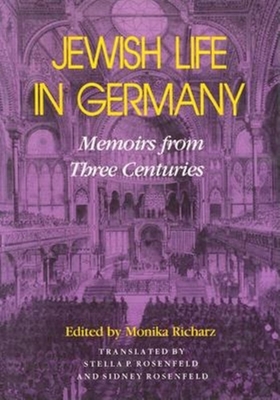 Jewish Life in Germany (Hardcover)
Memoirs from Three Centuries (Modern Jewish Experience)
Indiana University Press, 9780253350244, 496pp.
Publication Date: August 22, 1991
* Individual store prices may vary.
Description
"It is the best group portrait of German Jewry that we have." --Washington Post Book World
" . . . weaves a fascinating social tapestry of German Jewry from 1780 to 1945. . . . Richarz's introduction furnishes a probing analytic overview of German Jewish social history." --Library Journal
"Richarz's Jewish Life in Germany represents a major contribution to filling the void between broad generalization and actual human experience." --Contemporary Jewry
" . . . a most remarkable collection of documents . . . extremely well selected, very full . . . immensely useful to anyone wanting to study modern Jewish history, modern German history, or for that matter modern history as such." --Peter Gay
The social history of German Jewry from 1780 through 1945 comes to life in this unique collection of autobiographical documents by ordinary individuals from all social strata, from city and country, and from various professions and political and religious groups.