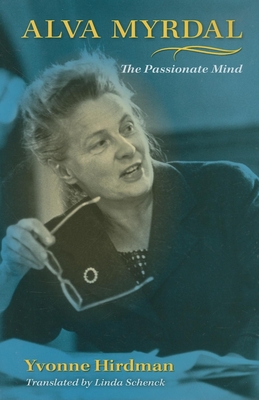 Alva Myrdal (Hardcover)
The Passionate Mind
Indiana University Press, 9780253351326, 430pp.
Publication Date: June 25, 2008
* Individual store prices may vary.
Description
Alva Myrdal, the scholarly partner and wife of Swedish sociologist Gunnar Myrdal, was an innovative social scientist and thinker in her own right. She helped to lay the intellectual foundations of Sweden's social welfare state, pioneered educational innovations, and became an activist for human rights. Her extensive disarmament efforts won her the Nobel Peace Prize in 1982. At the same time, she struggled with many of the issues that today's ambitious women still find challenging. Myrdal's published work and the choices she made in her life spoke to the tensions that these conflicts produced and to the ways she tried to reconcile them. Hers is a remarkable and dramatic story that transcends borders and has particular resonance today. Yvonne Hirdman's biography of Alva Myrdal has been published to great acclaim in Sweden. In it, she creates an intimate, impassioned portrait of one of the great women of the 20th century.