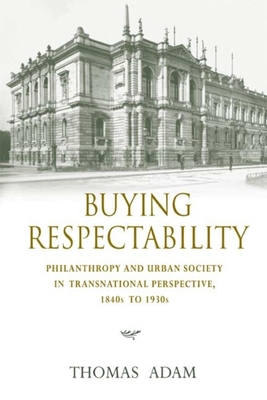 Buying Respectability (Hardcover)
Philanthropy and Urban Society in Transnational Perspective, 1840s to 1930s (Philanthropic and Nonprofit Studies)
Indiana University Press, 9780253352743, 239pp.
Publication Date: April 1, 2009
* Individual store prices may vary.
Description
In 19th-century Leipzig, Toronto, New York, and Boston, a newly emergent group of industrialists and entrepreneurs entered into competition with older established elite groups for social recognition as well as cultural and political leadership. The competition was played out on the field of philanthropy, with the North American community gathering ideas from Europe about the establishment of cultural and public institutions. For example, to secure financing for their new museum, the founders of the Metropolitan Museum of Art organized its membership and fundraising on the model of German art museums. The process of cultural borrowing and intercultural transfer shaped urban landscapes with the building of new libraries, museums, and social housing projects. An important contribution to the relatively new field of transnational history, this book establishes philanthropy as a prime example of the conversion of economic resources into social and cultural capital.
About the Author
Thomas Adam is Associate Professor of History at the University of Texas at Arlington. He teaches courses on German and modern transatlantic history. His research focuses on nineteenth-century philanthropy in the United States, Great Britain, Canada, and Germany and the intercultural transfer of philanthropic concepts between these countries. he has just published a book on funding higher education in Germany, 1800-1960, and is currently working on a comparative study of funding for university education in the United States and Germany, 1800 to 1945.