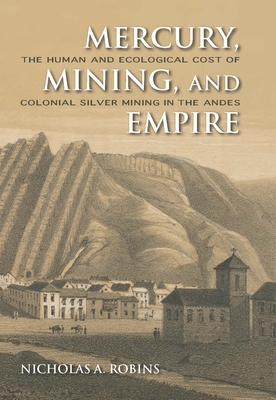 Mercury, Mining, and Empire (Hardcover)
The Human and Ecological Cost of Colonial Silver Mining in the Andes
Indiana University Press, 9780253356512, 298pp.
Publication Date: July 25, 2011
* Individual store prices may vary.
Description
On the basis of an examination of the colonial mercury and silver production processes and related labor systems, Mercury, Mining, and Empire explores the effects of mercury pollution in colonial Huancavelica, Peru, and Potos , in present-day Bolivia. The book presents a multifaceted and interwoven tale of what colonial exploitation of indigenous peoples and resources left in its wake. It is a socio-ecological history that explores the toxic interrelationships between mercury and silver production, urban environments, and the people who lived and worked in them. Nicholas A. Robins tells the story of how native peoples in the region were conscripted into the noxious ranks of foot soldiers of proto-globalism, and how their fate, and that of their communities, was--and still is--chained to it.
About the Author
Nicholas A. Robins is a lecturer in the Department of History at North Carolina State University. He is author of Native Insurgencies and the Genocidal Impulse in the Americas (IUP, 2005) and editor (with Adam Jones) of Genocides by the Oppressed: Subaltern Genocide in Theory and Practice (IUP, 2009), among other works.