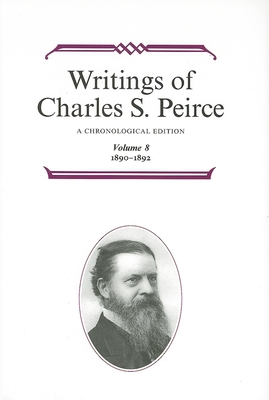 Writings of Charles S. Peirce (Hardcover)
A Chronological Edition, Volume 8: 1890a 1892
Indiana University Press, 9780253372086, 724pp.
Publication Date: December 7, 2009
Other Editions of This Title:
Hardcover (8/22/1982)
Hardcover (6/2/2000)
Hardcover (6/22/1984)
Hardcover (12/22/1993)
Hardcover (4/22/1986)
Hardcover (10/22/1989)
* Individual store prices may vary.
Description
Volume 8 of this landmark edition follows Peirce from May 1890 through July 1892--a period of turmoil as his career unraveled at the U.S. Coast and Geodetic Survey. The loss of his principal source of income meant the beginning of permanent penury and a lifelong struggle to find gainful employment. His key achievement during these years is his celebrated Monist metaphysical project, which consists of five classic articles on evolutionary cosmology. Also included are reviews and essays from The Nation in which Peirce critiques Paul Carus, William James, Auguste Comte, Cesare Lombroso, and Karl Pearson, and takes part in a famous dispute between Francis E. Abbot and Josiah Royce. Peirce's short philosophical essays, studies in non-Euclidean geometry and number theory, and his only known experiment in prose fiction complete his production during these years.
Peirce's 1883-1909 contributions to the Century Dictionary form the content of volume 7 which is forthcoming.
About the Author
The Peirce Edition Project, School of Liberal Arts, Indiana University Indianapolis, aims to produce a 30-volume edition of Peirce's writings from across the humanities and sciences.