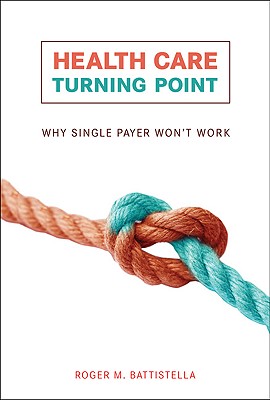 Health Care Turning Point (Hardcover)
Why Single Payer Won't Work
MIT Press (MA), 9780262014076, 165pp.
Publication Date: March 31, 2010
Other Editions of This Title:
Paperback (2/17/2012)
* Individual store prices may vary.
Description
In the battle over health care reform we can try to fashion new policies based on old ideas--or we can acknowledge today's demographic and economic realities. In Health Care Turning Point, health policy expert Roger Battistella argues that the conventional wisdom that dominates health policy debates is out of date. Battistella takes on popular misconceptions about the advantages of single-payer plans, the role of the market, and other health policy issues and outlines a pragmatic new approach. Few would disagree that the current system is broken. But, Battistella asserts provocatively, a government takeover of health insurance patterned after Medicare and Medicaid won't work either. Battistella argues that contrary to popular belief, single-payer coverage will not lower health spending but would encourage overconsumption and drive costs up. If consumers were responsible for buying their own health insurance (as they are for buying their own car and home insurance), he argues, they'd look for value and demand greater price and quality transparency from providers.
The economic shibboleth that the principles of market competition don't apply to health care is nonsense, Battistella says. We won't achieve real health care reform until policy makers adjust to this reality and adopt a more pragmatic view.
About the Author
Roger M. Battistella is Emeritus Professor of Health Policy and Management in the Sloan Graduate Program in Health Administration at Cornell University.
or
Not Currently Available for Direct Purchase