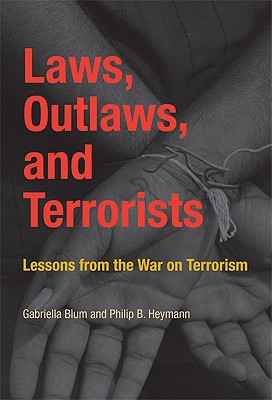 Laws, Outlaws, and Terrorists (Hardcover)
Lessons from the War on Terrorism
MIT Press (MA), 9780262014755, 225pp.
Publication Date: September 24, 2010
* Individual store prices may vary.
Description
In an age of global terrorism, can the pursuit of security be reconciled with liberal democratic values and legal principles? During its "global war on terrorism," the Bush administration argued that the United States was in a new kind of conflict, one in which peacetime domestic law was irrelevant and international law inapplicable. From 2001 to 2009, the United States thus waged war on terrorism in a "no-law zone."
In " Laws, Outlaws, and Terrorists," Gabriella Blum and Philip Heymann reject the argument that traditional American values embodied in domestic and international law can be ignored in any sustainable effort to keep the United States safe from terrorism. They demonstrate that the costs are great and the benefits slight from separating security and the rule of law. They call for reasoned judgment instead of a wholesale abandonment of American values. They also argue that being open to negotiations and seeking to win the moral support of the communities from which the terrorists emerge are noncoercive strategies that must be included in any future efforts to reduce terrorism.
About the Author
Geoffrey Kemp is director of regional strategic programs at The Nixon Center inWashington, D.C., and was special assistant to the president for the Middle East duringthe first Reagan administration.
or
Not Currently Available for Direct Purchase