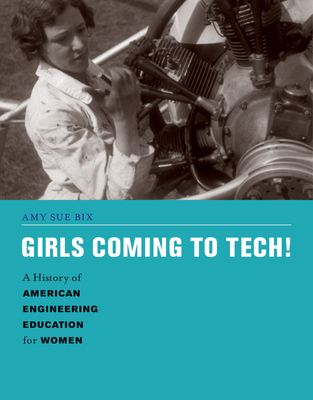 Girls Coming to Tech!
A History of American Engineering Education for Women (Engineering Studies)
Hardcover

* Individual store prices may vary.
Description
How women coped with both formal barriers and informal opposition to their entry into the traditionally masculine field of engineering in American higher education.
Engineering education in the United States was long regarded as masculine territory. For decades, women who studied or worked in engineering were popularly perceived as oddities, outcasts, unfeminine (or inappropriately feminine in a male world). In Girls Coming to Tech!, Amy Bix tells the story of how women gained entrance to the traditionally male field of engineering in American higher education.
As Bix explains, a few women breached the gender-reinforced boundaries of engineering education before World War II. During World War II, government, employers, and colleges actively recruited women to train as engineering aides, channeling them directly into defense work. These wartime training programs set the stage for more engineering schools to open their doors to women. Bix offers three detailed case studies of postwar engineering coeducation. Georgia Tech admitted women in 1952 to avoid a court case, over objections by traditionalists. In 1968, Caltech male students argued that nerds needed a civilizing female presence. At MIT, which had admitted women since the 1870s but treated them as a minor afterthought, feminist-era activists pushed the school to welcome more women and take their talent seriously.
In the 1950s, women made up less than one percent of students in American engineering programs; in 2010 and 2011, women earned 18.4% of bachelor's degrees, 22.6% of master's degrees, and 21.8% of doctorates in engineering. Bix's account shows why these gains were hard won.
Praise For Girls Coming to Tech!: A History of American Engineering Education for Women (Engineering Studies)…
In
Girls Coming to Tech!
Amy Sue Bix offers a fascinating account of how women's enrollment in American undergraduate engineering programs gradually rose and of the many challenges women encountered as students and then professionals.... As someone who has been the 'first female to hold my position' for more than 25 years, I appreciate the level of care and detail that Bix invests in
Girls Coming to Tech!
Despite the topic being an area of intense interest for me, I learned a great deal from her account.—
Maria Klawe
,
Science
—
The book is a must-read for those interested in engineering history, women's history, and the history of education as well as for everyone seeking to improve the situation of women students, faculty, and administrators.
—
Technology and Culture
—
The MIT Press, 9780262019545, 376pp.
Publication Date: January 31, 2014
About the Author
Amy Sue Bix is Professor in the Department of History at Iowa State University, where she is also the Director of the Center for Historical Studies of Technology and Science.
or
Not Currently Available for Direct Purchase