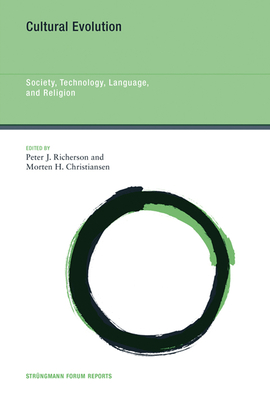 Cultural Evolution
Society, Technology, Language, and Religion (Strüngmann Forum Reports #12)
Hardcover

* Individual store prices may vary.
Description
Leading scholars report on current research that demonstrates the central role of cultural evolution in explaining human behavior.
Over the past few decades, a growing body of research has emerged from a variety of disciplines to highlight the importance of cultural evolution in understanding human behavior. Wider application of these insights, however, has been hampered by traditional disciplinary boundaries. To remedy this, in this volume leading researchers from theoretical biology, developmental and cognitive psychology, linguistics, anthropology, sociology, religious studies, history, and economics come together to explore the central role of cultural evolution in different aspects of human endeavor.
The contributors take as their guiding principle the idea that cultural evolution can provide an important integrating function across the various disciplines of the human sciences, as organic evolution does for biology. The benefits of adopting a cultural evolutionary perspective are demonstrated by contributions on social systems, technology, language, and religion. Topics covered include enforcement of norms in human groups, the neuroscience of technology, language diversity, and prosociality and religion. The contributors evaluate current research on cultural evolution and consider its broader theoretical and practical implications, synthesizing past and ongoing work and sketching a roadmap for future cross-disciplinary efforts.
Contributors
Quentin D. Atkinson, Andrea Baronchelli, Robert Boyd, Briggs Buchanan, Joseph Bulbulia, Morten H. Christiansen, Emma Cohen, William Croft, Michael Cysouw, Dan Dediu, Nicholas Evans, Emma Flynn, Pieter François, Simon Garrod, Armin W. Geertz, Herbert Gintis, Russell D. Gray, Simon J. Greenhill, Daniel B. M. Haun, Joseph Henrich, Daniel J. Hruschka, Marco A. Janssen, Fiona M. Jordan, Anne Kandler, James A. Kitts, Kevin N. Laland, Laurent Lehmann, Stephen C. Levinson, Elena Lieven, Sarah Mathew, Robert N. McCauley, Alex Mesoudi, Ara Norenzayan, Harriet Over, Jürgen Renn, Victoria Reyes-García, Peter J. Richerson, Stephen Shennan, Edward G. Slingerland, Dietrich Stout, Claudio Tennie, Peter Turchin, Carel van Schaik, Matthijs Van Veelen, Harvey Whitehouse, Thomas Widlok, Polly Wiessner, David Sloan Wilson
The MIT Press, 9780262019750, 504pp.
Publication Date: November 1, 2013
About the Author
Peter J. Richerson is Distinguished Professor Emeritus at the University of California, Davis, and Visiting Professor at the Institute of Archaeology at University College London. He is the author of Not By Genes Alone: How Culture Transformed Human Evolution.

Morten H. Christiansen is Professor of Psychology and Codirector of the Cognitive Science Program at Cornell University.
or
Not Currently Available for Direct Purchase