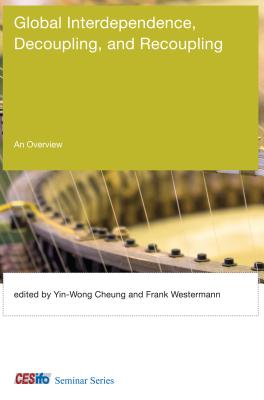 Global Interdependence, Decoupling, and Recoupling (CESifo Seminar) (Hardcover)
Mit Press, 9780262019804, 308pp.
Publication Date: November 15, 2013
Other Editions of This Title:
Hardcover (11/15/2013)
* Individual store prices may vary.
Description
Investigations of the propagation and influence of global shocks among the economies of developed and developing countries.
One lens through which to view global economic interdependence and the spillover of shocks is that of decoupling (and then recoupling). Decoupling between developed and developing countries can be seen in the strong economic performance of China and India relative to that of the United States and Europe in the early 2000s. Recoupling then took place as developing countries sank along with the developed world during the deepening financial crisis of 2008. This volume examines patterns of global economic interdependence and the propagation of shocks in an increasingly integrated world economy.
The contributors discuss such topics as the transmission of exogenous shocks; causes of business cycle synchronicity; the differences between global and regional shocks; the South-South trade relationship and its effect on decoupling; vertical specialization and Mexico's manufacturing exports; growth prospects in China, the United States, and Europe after the financial crisis; and the evolving role of the U.S. dollar in international monetary architecture.
Contributors
Helge Berger, Rossella Calvi, Yin-Wong Cheung, Gianluca Cubadda, Justino De La Cruz, Filippo di Mauro, Michael Dooley, Eiji Fujii, Linda S. Goldberg, Barbara Guardabascio, Alain Hecq, Hideaki Hirata, Robert B. Koopman, M. Ayhan Kose, Marco J. Lombardi, Steven Lugauer, Nelson C. Mark, Volker Nitsch, Christopher Otrok, Tuomas Antero Peltonen, Gabor Pula, Pierre L. Siklos, Zhi Wang, Shang-Jin Wei, Frank Westermann
About the Author
Frank Westermann is Professor of Economics and Director of the Institute of Empirical Economic Research at Osnabrueck University, Germany.
or
Not Currently Available for Direct Purchase