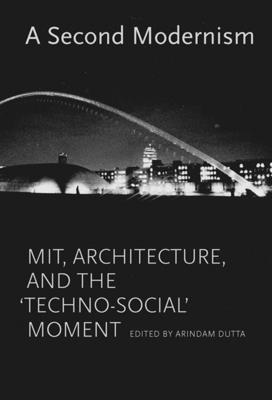 A Second Modernism
MIT, Architecture, and the "Techno-Social" Moment
Hardcover

* Individual store prices may vary.
Description
An account of architecture's postwar ambition to transform itself into a research-oriented and technologically complex discipline of design expertise.
After World War II, a second modernism emerged in architecture—an attempt, in architectural scholar Joan Ockman's words, "to transform architecture from a 'soft' aesthetic discipline into a 'hard,' objectively verifiable field of design expertise." Architectural thought was influenced by linguistic, behavioral, computational, mediatic, cybernetic, and other urban and behavioral models, as well as systems-based and artificial intelligence theories. This nearly 1,000-page book examines the "techno-social" turn in architecture, taking MIT's School of Architecture and Planning as its exemplar.
In essays and interviews, prominent architectural historians and educators examine the postwar "research-industrial" complex, its attendant cult of expertise, and its influence on life and letters both in America and abroad. Paying particular attention to the ways that technological thought affected the culture of the humanities, the social sciences, and architectural design, the book traces this shift toward complexity as it unfolded, from classroom practices to committee deliberations, from the challenges of research to the vicissitudes of funding. Looking closely at the ways that funded research drew academics towards a "problem-solving" and relevance-seeking mentality and away from the imported Bauhaus model of intuition and aesthetics, the book reveals how linguistics, information sciences, operations research, computer technology, and systems theory became part of architecture's expanded toolkit.
This is a history not just of a school of architecture but of the research-oriented era itself. It offers a thoroughgoing exploration of the ways that policies, politics, and pedagogy transformed themselves in accord with the exponential growth of institutional power.
The MIT Press, 9780262019859, 928pp.
Publication Date: September 27, 2013
About the Author
Arindam Dutta is Associate Professor of Architectural History and directs the Master of Science in Architecture Studies (SMArchS) Program in MIT's Department of Architecture. He is the author of The Bureaucracy of Beauty: Design in the Age of its Global Reproducibility.

Stephanie Tuerk is a graduate of the Yale School of Architecture and a practicing architect.

Irina Chernyakova manages communications, including book and journal publications, and public programs at the MIT Department of Architecture, from which she graduated with a master's degree in the history, theory, and criticism of architecture and art.
or
Not Currently Available for Direct Purchase