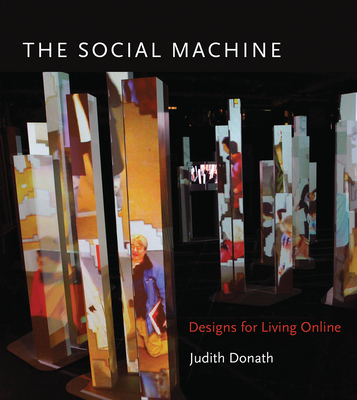 The Social Machine
Designs for Living Online
Hardcover

* Individual store prices may vary.
Description
New ways to design spaces for online interaction—and how they will change society.
Computers were first conceived as "thinking machines," but in the twenty-first century they have become social machines, online places where people meet friends, play games, and collaborate on projects. In this book, Judith Donath argues persuasively that for social media to become truly sociable media, we must design interfaces that reflect how we understand and respond to the social world. People and their actions are still harder to perceive online than face to face: interfaces are clunky, and we have less sense of other people's character and intentions, where they congregate, and what they do.
Donath presents new approaches to creating interfaces for social interaction. She addresses such topics as visualizing social landscapes, conversations, and networks; depicting identity with knowledge markers and interaction history; delineating public and private space; and bringing the online world's open sociability into the physical world. Donath asks fundamental questions about how we want to live online and offers thought-provoking designs that explore radically new ways of interacting and communicating.
Praise For The Social Machine: Designs for Living Online…
For anyone with interest in this field, either as a technology designer or just as someone who loves beautiful technology, this is destined to become the definitive text. It is eloquent, well organized, and thorough...Those who share the author's principles of valuing beautiful and thought-provoking designs for their own sake will fall in love with this book. Those who are motivated to design platforms to generate profits or support analysis and decision-making will find value here, too, although they are unlikely to be completely won over by all of Donath's opinions on radical, creative design. Then again, this is a common characteristic of manifestoes. I don't expect Karl Marx planned to win over everyone with his manifesto, either.—Science—
The MIT Press, 9780262027014, 432pp.
Publication Date: May 23, 2014
About the Author
Judith Donath is a Faculty Fellow at Harvard University's Berkman Center for Internet and Society and a Visiting Scholar at MIT's Program in Science, Technology, and Society.