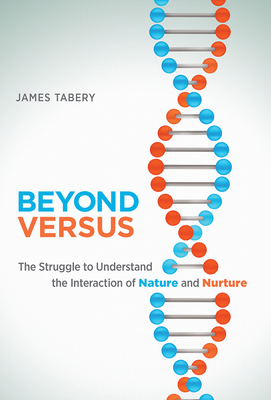 Beyond Versus
The Struggle to Understand the Interaction of Nature and Nurture (Life and Mind: Philosophical Issues in Biology and Psychology)
Hardcover

* Individual store prices may vary.
Description
Why the "nature versus nurture" debate persists despite widespread recognition that human traits arise from the interaction of nature and nurture.
If everyone now agrees that human traits arise not from nature or nurture but from the interaction of nature and nurture, why does the "nature versus nurture" debate persist? In Beyond Versus, James Tabery argues that the persistence stems from a century-long struggle to understand the interaction of nature and nurture—a struggle to define what the interaction of nature and nurture is, how it should be investigated, and what counts as evidence for it.
Tabery examines past episodes in the nature versus nurture debates, offers a contemporary philosophical perspective on them, and considers the future of research on the interaction of nature and nurture. From the eugenics controversy of the 1930s and the race and IQ controversy of the 1970s to the twenty-first-century debate over the causes of depression, Tabery argues, the polarization in these discussions can be attributed to what he calls an "explanatory divide"—a disagreement over how explanation works in science, which in turn has created two very different concepts of interaction. Drawing on recent developments in the philosophy of science, Tabery offers a way to bridge this explanatory divide and these different concepts integratively. Looking to the future, Tabery evaluates the ethical issues that surround genetic testing for genes implicated in interactions of nature and nurture, pointing to what the future does (and does not) hold for a science that continues to make headlines and raise controversy.
Praise For Beyond Versus: The Struggle to Understand the Interaction of Nature and Nurture (Life and Mind: Philosophical Issues in Biology and Psychology)…
This is an engaging new entry in the voluminous literature that attempts to get beyond 'nature-nurture' divides...the book's clear focus on these themes is one of its major strengths....Tabery's careful analysis shows clearly why we need to take these kinds of questions seriously.—
Notre Dame Philosophical Reviews
—
An excellent book by an obviously multi-talented author.
—
History and Philosophy of the Life Sciences
—
A novel approach....Beyond Versus offers a thorough review of the contemporary but timeless nature/nurture debate....Tabery's discussion allows the main currents in the debate to surface.
—
Review of Metaphysics
—
If, like many people, you think the nature-nurture debate is fascinating and relevant to our time, add James Tabery's book to your shelf. If, like me, you have long wondered why the nature-nurture debate still exists in scientific circles, add this book to your shelf.
—
PsycCRITIQUES
—
Tabery's book presents a timely attempt to unify an integrative approach to bioethical reflection on the collection and use of genetic information.
—
Theoretical Medicine and Bioethics
—
The MIT Press, 9780262027373, 296pp.
Publication Date: May 9, 2014
About the Author
James Tabery is Associate Professor in the Department of Philosophy and member of the Division of Medical Ethics and Humanities at the University of Utah.
or
Not Currently Available for Direct Purchase