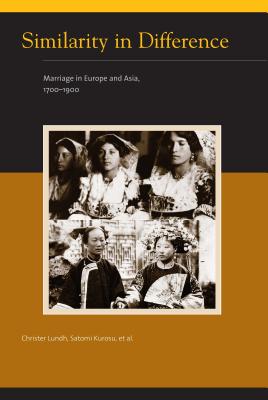 Similarity in Difference
Marriage in Europe and Asia, 1700-1900 (Eurasian Population and Family History)
Hardcover

* Individual store prices may vary.
Description
A study of marriage in preindustrial Europe and Asia that goes beyond the Malthusian East-West dichotomy to find variation within regions and commonality across regions.
Since Malthus, an East-West dichotomy has been used to characterize marriage behavior in Asia and Europe. Marriages in Asia were said to be early and universal, in Europe late and non-universal. In Europe, marriages were supposed to be the result of individual choices but, in Asia, decided by families and communities. This book challenges this binary taxonomy of marriage patterns and family systems. Drawing on richer and more nuanced data, the authors compare the interpretations based on aggregate demographic patterns with studies of individual actions in local populations. Doing so, they are able to analyze simultaneously the influence on marriage decisions of individual demographic features, socioeconomic status and composition of the household, and local conditions, and the interactions of these variables. They find differences between East and West but also variation within regions and commonality across regions.
The book studies local populations in Sweden, Belgium, Italy, Japan, and China. Rather than a simple comparison of aggregate marriage patterns, it examines marriage outcomes and determinants of local populations in different countries using similar data and methods. The authors first present the results of comparative analyses of first marriage and remarriage and then offer chapters each of which is devoted to the results from a specific country. Similarity in Difference is the third in a prizewinning series on the demographic history of Eurasia, following Life under Pressure (2004) and Prudence and Pressure (2009), both published by the MIT Press.
MIT Press, 9780262027946, 544pp.
Publication Date: December 5, 2014
About the Author
Christer Lundh is Professor of Economic History at the University of Gothenburg, Sweden. Satomi Kurosu is Professor of Sociology at Reitaku University, Japan.
or
Not Currently Available for Direct Purchase