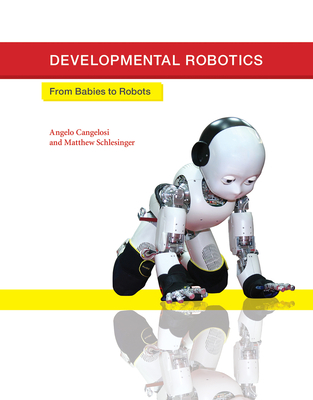 Developmental Robotics
From Babies to Robots (Intelligent Robotics and Autonomous Agents series)
Hardcover

* Individual store prices may vary.
Description
A comprehensive overview of an interdisciplinary approach to robotics that takes direct inspiration from the developmental and learning phenomena observed in children's cognitive development.
Developmental robotics is a collaborative and interdisciplinary approach to robotics that is directly inspired by the developmental principles and mechanisms observed in children's cognitive development. It builds on the idea that the robot, using a set of intrinsic developmental principles regulating the real-time interaction of its body, brain, and environment, can autonomously acquire an increasingly complex set of sensorimotor and mental capabilities. This volume, drawing on insights from psychology, computer science, linguistics, neuroscience, and robotics, offers the first comprehensive overview of a rapidly growing field.
After providing some essential background information on robotics and developmental psychology, the book looks in detail at how developmental robotics models and experiments have attempted to realize a range of behavioral and cognitive capabilities. The examples in these chapters were chosen because of their direct correspondence with specific issues in child psychology research; each chapter begins with a concise and accessible overview of relevant empirical and theoretical findings in developmental psychology. The chapters cover intrinsic motivation and curiosity; motor development, examining both manipulation and locomotion; perceptual development, including face recognition and perception of space; social learning, emphasizing such phenomena as joint attention and cooperation; language, from phonetic babbling to syntactic processing; and abstract knowledge, including models of number learning and reasoning strategies. Boxed text offers technical and methodological details for both psychology and robotics experiments.
Praise For Developmental Robotics: From Babies to Robots (Intelligent Robotics and Autonomous Agents series)…
... with their combined background in psychology, cognitive science, and artificial intelligence, Cangelosi and Schlesinger are well equipped to illustrate the full-breadth of this dynamic field. Developmental robotics primarily draws people from psychology and artificial intelligence. However it goes far beyond that with connections to linguistics, neuroscience, philosophy of mind, and more. The book provides an extensive set of references (50 pages long) highlighting the true interdisciplinary nature of the field. (...) Cangelosi and Schlesinger's book provides a clear and accessible introduction to developmental robotics, demonstrating the exciting kinds of research that result from interdisciplinary collaborations.—Genetic Programming and Evolvable Machines—
The MIT Press, 9780262028011, 432pp.
Publication Date: January 9, 2015
About the Author
Angelo Cangelosi is Professor of Artificial Intelligence and Cognition at the Centre for Robotics and Neural Systems at the University of Plymouth, U.K.

Matthew Schlesinger is Associate Professor of Psychology and Adjunct Professor of Electrical and Computer Engineering at Southern Illinois University.

Linda B. Smith is a Professor of Psychology and Cognitive Science at Indiana University.
or
Not Currently Available for Direct Purchase