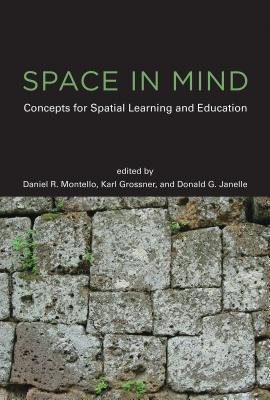 Space in Mind (Hardcover)
Concepts for Spatial Learning and Education
Mit Press, 9780262028295, 352pp.
Publication Date: November 21, 2014
* Individual store prices may vary.
Description
Leading researchers offer a range of disciplinary perspectives on the implications of spatial thinking and reasoning for education and learning.
The current "spatial turn" in many disciplines reflects an emerging scholarly interest in space and spatiality as central components in understanding the natural and cultural worlds. In Space in Mind, leading researchers from a range of disciplines examine the implications of research on spatial thinking and reasoning for education and learning. Their contributions suggest ways in which recent work in such fields as spatial cognition, geographic information systems, linguistics, artificial intelligence, architecture, and data visualization can inform spatial approaches to learning and education.
After addressing the conceptual foundations of spatial thinking for education and learning, the book considers visualization, both external (for example, diagrams and maps) and internal (imagery and other mental spatial representations); embodied cognition and spatial understanding; and the development of specific spatial curricula and literacies.
Contributors
Kinnari Atit, John Bateman, Ruth Conroy Dalton, Ghislain Deslongchamps, Bonnie Dixon, Roger M. Downs, Daniel R. Montello, Christian Freksa, Michael F. Goodchild, Karl Grossner, Mary Hegarty, Scott R. Hinze, Christoph H lscher, Alycia M. Hund, Donald G. Janelle, Sander Lestrade, Evie Malaia, Nora S. Newcombe, David N. Rapp, Thomas F. Shipley, Holger Schultheis, Mary Jane Shultz, Diana Sinton, Mike Stieff, Thora Tenbrink, Basil Tikoff, Dido Tsigaridi, David Waller, Ranxiao Frances Wang, Ronnie Wilbur, Kenneth C. Williamson, Vickie M. Williamson
About the Author
Daniel R. Montello is Professor in the Department of Geography at the University of California, Santa Barbara. Karl Grossner is a geographer and Digital Humanities Research Developer at Stanford University. Donald G. Janelle is former Program Director of the Center for Spatial Studies at the University of California, Santa Barbara, where he is now Research Emeritus; he is also Professor Emeritus at the University of Western Ontario.
or
Not Currently Available for Direct Purchase