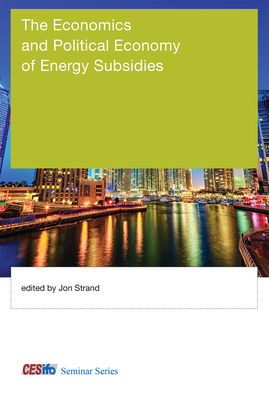 The Economics and Political Economy of Energy Subsidies (CESifo Seminar) (Hardcover)
Mit Press, 9780262034647, 296pp.
Publication Date: August 5, 2016
* Individual store prices may vary.
Description
The economic and political aspects of energy subsidies, viewed both theoretically and empirically, with a focus on fossil fuel subsidies in developing nations.
Government subsidies to energy are widespread and represent a heavy burden on public budgets in many countries. Both producers and consumers may be subsidized; the most common subsidies are for motor fuel consumption and electricity production and consumption. The subsidies to consumers often prove particularly harmful because they result in increased energy consumption, increased carbon emissions, and distortionary effects on consumer behavior. This book fills a void in the literature by providing a first, broad and diverse, analysis of several aspects of the economic and political economy aspects of government energy subsidies. The contributors take both theoretical and empirical approaches, with most of the focus on subsidies to fuel and electricity in non-OECD countries.
The chapters cover such topics as energy pricing, reelection incentives for politicians that may encourage excessive subsidies; political corruption and "bribing equilibria," the the "resource curse" in developing countries when the gains from natural resource windfalls are largely wasted, the "entitlement" of energy subsidies in autocracies, and distributional issues when subsidies targeted to the poor are removed in high-income countries. One chapter discusses nonharmful subsidies: the potential economic effects of subsidizing the manufacturing and deployment of renewable energy.
Contributors
Carolyn Fischer, Mads Greaker, Mohammad Habibpour, Michelle Harding, Christina Kolerus, Christos Kotsogiannis, Jim Krane, Alber Touna Mama, Raffaele Miniaci, Marco Pani, Ian Parry, Carlo Perroni, Leonzio Rizzo, Knut Einar Rosendahl, Carlo Scarpa, Neda Seiban, Suphi Sen, Jon Strand, Paola Valbonesi, Herman Vollebergh
About the Author
Jon Strand is a Senior Economist at the World Bank Development Research Group's Environment and Energy Team in Washington, DC, and Professor of Economics at the University of Oslo.
or
Not Currently Available for Direct Purchase