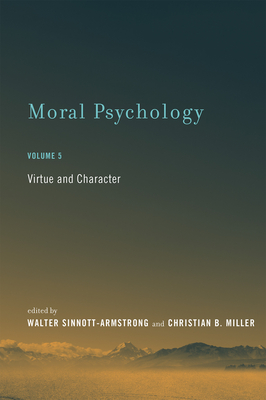 Moral Psychology (Hardcover)
Virtue and Character (Bradford Book #5)
Bradford Book, 9780262035576, 632pp.
Publication Date: March 24, 2017
Other Editions of This Title:
Paperback (3/24/2017)
Paperback (1/1/2008)
Paperback (10/1/2007)
Paperback (1/1/2008)
Hardcover (1/1/2008)
* Individual store prices may vary.
Description
Groundbreaking essays and commentaries on the ways that recent findings in psychology and neuroscience illuminate virtue and character and related issues in philosophy.
Philosophers have discussed virtue and character since Socrates, but many traditional views have been challenged by recent findings in psychology and neuroscience. This fifth volume of Moral Psychology grows out of this new wave of interdisciplinary work on virtue, vice, and character. It offers essays, commentaries, and replies by leading philosophers and scientists who explain and use empirical findings from psychology and neuroscience to illuminate virtue and character and related issues in moral philosophy. The contributors discuss such topics as eliminativist and situationist challenges to character; investigate the conceptual and empirical foundations of self-control, honesty, humility, and compassion; and consider whether the virtues contribute to well-being.
Contributors
Karl Aquino, Jason Baehr, C. Daniel Batson, Lorraine L. Besser, C. Daryl Cameron, Tanya L. Chartrand, M. J. Crockett, Bella DePaulo, Korrina A. Duffy, William Fleeson, Andrea L. Glenn, Charles Goodman, Geoffrey P. Goodwin, George Graham, June Gruber, Thomas Hurka, Eranda Jayawickreme, Andreas Kappes, Kristj n Kristj nsson, Daniel Lapsley, Neil Levy, E.J. Masicampo, Joshua May, Christian B. Miller, M. A. Montgomery, Thomas Nadelhoffer, Eddy Nahmias, Hanna Pickard, Katie Rapier, Raul Saucedo, Shannon W. Schrader, Walter Sinnott-Armstrong, Nancy E. Snow, Gopal Sreenivasan, Chandra Sripada, June P. Tangney, Valerie Tiberius, Simine Vazire, Jennifer Cole Wright
About the Author
Walter Sinnott-Armstrong is Stillman Professor of Practical Ethics in the Philosophy Department and the Kenan Institute for Ethics at Duke University. He edited the previous volumes in Moral Psychology. Christian B. Miller is Professor of Philosophy at Wake Forest University and Director of the Character Project (www.thecharacterproject.com).
or
Not Currently Available for Direct Purchase