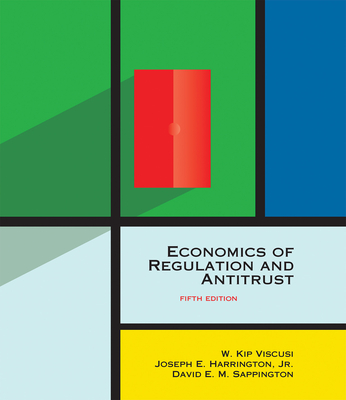 Economics of Regulation and Antitrust, fifth edition
Hardcover

* Individual store prices may vary.
Description
A thoroughly revised and updated edition of the leading textbook on government and business policy, presenting the key principles underlying sound regulatory and antitrust policy.
Regulation and antitrust are key elements of government policy. This new edition of the leading textbook on government and business policy explains how the latest theoretical and empirical economic tools can be employed to analyze pressing regulatory and antitrust issues. The book departs from the common emphasis on institutions, focusing instead on the relevant underlying economic issues, using state-of-the-art analysis to assess the appropriate design of regulatory and antitrust policy. Extensive case studies illustrate fundamental principles and provide insight on key issues in regulation and antitrust policy.
This fifth edition has been thoroughly revised and updated, reflecting both the latest developments in economic analysis and recent economic events. The text examines regulatory practices through the end of the Obama and beginning of the Trump administrations. New material includes coverage of global competition and the activities of the European Commission; recent mergers, including Comcast-NBC Universal; antitrust in the new economy, including investigations into Microsoft and Google; the financial crisis of 2007–2008 and the Dodd-Frank Act; the FDA approval process; climate change policies; and behavioral economics as a tool for designing regulatory strategies.
The MIT Press, 9780262038065, 1000pp.
Publication Date: August 14, 2018
About the Author
W. Kip Viscusi is University Distinguished Professor of Law, Economics, and Management at Vanderbilt University.

Joseph E. Harrington, Jr., is Patrick T. Harker Professor in the Department of Business Economics and Public Policy at the Wharton School at the University of Pennsylvania.

David E. M. Sappington is an Eminent Scholar in the Department of Economics at the University of Florida.
or
Not Currently Available for Direct Purchase