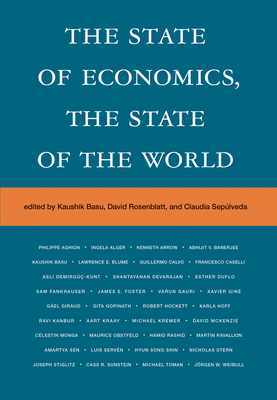 The State of Economics, the State of the World
Hardcover

* Individual store prices may vary.
Description
Leading economists address the ongoing challenges to economics in theory and practice in a time of political and economic crises.
More than a decade of financial crises, sovereign debt problems, political conflict, and rising xenophobia and protectionism has left the global economy unsettled and the ability of economics as a discipline to account for episodes of volatility uncertain. In this book, leading economists consider the state of their discipline in a world of ongoing economic and political crises.
The book begins with three sweeping essays by Nobel laureates Kenneth Arrow (in one of his last published works), Amartya Sen, and Joseph Stiglitz that offer a summary of the theoretical foundations of modern economics--the twin pillars of general equilibrium theory and welfare economics. Contributors then turn to macroeconomic stabilization and growth and, finally, new areas of research that depart from traditional theory, methodology, and concerns: climate change, behavioral economics, and evolutionary game theory. The 2019 Nobel Prize laureates, Abhijit Banerjee, Esther Duflo, and Michael Kremer, contribute a paper on the use of randomized control trials indevelopment economics.
Contributors
Philippe Aghion, Ingela Alger, Kenneth Arrow, Abhijit Banerjee, Kaushik Basu, Lawrence Blume, Guillermo Calvo, Francesco Caselli, Asli Demirg -Kunt, Shantayanan Devarajan, Esther Duflo, Samuel Fankhauser, James Foster, Varun Gauri, Xavier Gine, G el Giraud, Gita Gopinath, Robert Hockett, Karla Hoff, Ravi Kanbur, Aart Kraay, Michael Kremer, David McKenzie, C lestin Monga, Maurice Obstfeld, Hamid Rashid, Martin Ravallion, Amartya Sen, Luis Serv n, Hyun Song Shin, Nicholas Stern, Joseph Stiglitz, Cass Sunstein, Michael Toman, J rgen Weibull
MIT Press, 9780262039994, 552pp.
Publication Date: January 7, 2020