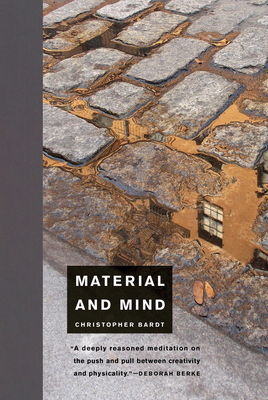 Material and Mind
Hardcover

* Individual store prices may vary.
Description
An in-depth exploration of the interaction between mind and material world, mediated by language, image, and making—in design, the arts, culture, and science.
In Material and Mind, Christopher Bardt delves deeply into the interaction of mind and material world, mediated by language, image, and the process of making. He examines thought not as something "pure" and autonomous but as emerging from working with material, and he identifies this as the source of imagination and creative insight. This takes place as much in such disciplines as cognitive science, anthropology, and poetry as it does in the more obvious painting, sculpture, and design. In some fields, the medium of work is, in fact, the very medium of thinking—as fabric is for the tailor.
Drawing on the philosophical notions of the "extended mind" and the "enactive mind," and looking beyond the world of material-based arts, Bardt investigates the realms in which material and mind interweave through metaphor, representation, projection, analogues, tools, and models. He considers words and their material origins and discusses the paradox of representation. He draws on the design process, scientific discovery, and cultural practice, among others things, to understand the dynamics of human thinking, to illuminate some of the ways we work with materials and use tools, and to demonstrate how our world continues to shape us as we shape it. Finally, he considers the seamless "immaterial" flow of imagery, text, and data and considers the place of material engagement in a digital storm.
The MIT Press, 9780262042727, 392pp.
Publication Date: September 17, 2019
About the Author
Christopher Bardt is a Professor of Architecture at the Rhode Island School of Design, where he has taught since 1988. He is a founding partner (with Kyna Leski) of 3six0 Architecture in Providence.
or
Not Currently Available for Direct Purchase