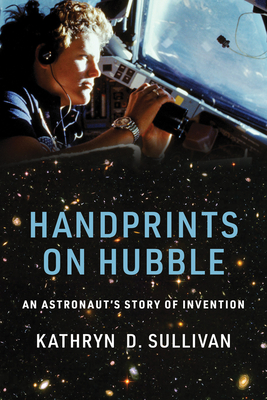 Handprints on Hubble
An Astronaut's Story of Invention (Lemelson Center Studies in Invention and Innovation series)
Hardcover

* Individual store prices may vary.
Other Editions of This Title:
Paperback (12/1/2020)
Description
The first American woman to walk in space recounts her experience as part of the team that launched, rescued, repaired, and maintained the Hubble Space Telescope.
The Hubble Space Telescope has revolutionized our understanding of the universe. It has, among many other achievements, revealed thousands of galaxies in what seemed to be empty patches of sky; transformed our knowledge of black holes; found dwarf planets with moons orbiting other stars; and measured precisely how fast the universe is expanding. In Handprints on Hubble, retired astronaut Kathryn Sullivan describes her work on the NASA team that made all of this possible. Sullivan, the first American woman to walk in space, recounts how she and other astronauts, engineers, and scientists launched, rescued, repaired, and maintained Hubble, the most productive observatory ever built.
Along the way, Sullivan chronicles her early life as a "Sputnik Baby," her path to NASA through oceanography, and her initiation into the space program as one of "thirty-five new guys." (She was also one of the first six women to join NASA's storied astronaut corps.) She describes in vivid detail what liftoff feels like inside a spacecraft (it's like "being in an earthquake and a fighter jet at the same time"), shows us the view from a spacewalk, and recounts the temporary grounding of the shuttle program after the Challenger disaster.
Sullivan explains that "maintainability" was designed into Hubble, and she describes the work of inventing the tools and processes that made on-orbit maintenance possible. Because in-flight repair and upgrade was part of the plan, NASA was able to fix a serious defect in Hubble's mirrors—leaving literal and metaphorical "handprints on Hubble."
Handprints on Hubble was published with the support of the MIT Press Fund for Diverse Voices.
Praise For Handprints on Hubble: An Astronaut's Story of Invention (Lemelson Center Studies in Invention and Innovation series)…
Longlisted for the AAAS/Subaru Prize for Excellence in Science Books, Young Adult Science Book Winners.

"[A]n accessible and fascinating memoir of [Sullivan's] experiences as a pioneering scientist, highlighted by her work on the Hubble space telescope… Sullivan's fine volume shines a light on the nuts-and-bolts tasks that make extraordinary endeavors possible."
—Publishers Weekly, starred review

Throughout the narrative, [Sullivan's] easy hand with details and infectious enthusiasm make for a winning combination. A smooth delivery of the nit and grit behind the success of the Hubble.
—Kirkus Reviews

"Handprints on Hubble is an involving, inspiring personal account of creating Hubble, the telescope that changed Earth's view of the universe."
—Foreword Reviews

"An accessible, engaging read for students of engineering and the history of technology and generalist readers interested in NASA history."
—Library Journal

"To read these [this book] is to marvel at what we have achieved in our nascent efforts to inhabit space, and to recognize that we have barely begun that quest."
—Nature

"As a ringside spectator of Challenger, Sullivan's memories are tinged by tragedy and she remained soberly aware that she might never return from a mission. Behind every scene Hubble itself looms large – "like a beautiful silver gift from Tiffany's" – whose contribution to understanding our place in the cosmos needs no qualification."
—SKY AT NIGHT Magazine

"Dr. Sullivan starts out headed for the bottom of the sea. Soon, she flies us 200 miles above the sky, using her head, heart, and hands to solve problem after problem — and help us take in views that are out of this world. She does it all with her veneer of astronaut cool, of course. What an adventure — no wonder she loves it." 
—Bill Nye, CEO, The Planetary Society 

"A wonderful tale of the most remarkable scientific instrument of our time, and the people who made it possible. This fascinating story of the Hubble Space Telescope's visioning, development, and miraculous recovery, written by my longtime friend and two-time shuttle crewmate Dr. Kathy Sullivan, pays tribute to the unsung heroes of Hubble's initial deployment and subsequent servicing." 
—Charlie Bolden, NASA Astronaut Pilot STS-31; 12th NASA Administrator 

"So that's how it all works! Kathy Sullivan's insider knowledge and spacewalking savvy turn the nuts-and-bolts narrative of a giant piece of hardware into a daring space odyssey. From roaring rockets to tiny wrenches — as human ingenuity shaped NASA technology — it's an intimate portrait of our magnificent Hubble eye-in-the-sky. I was, yes, riveted."  
–Lynn Sherr, longtime space correspondent for ABC News; author, Sally Ride: America's First Woman in Space 

"Perhaps the most important spacecraft ever launched in a single mission is the Hubble Space Telescope. HST has provided to humanity more knowledge of our universe than any instrument since Galileo first peered through ground glass. Astronaut Kathy Sullivan was there at the beginning of Hubble's design. As much as anyone, her handprints are on this magnificent space observatory. Now, in this fast-paced memoir, she tells us of the frustrations and triumphs of her storied career as the first American woman to walk in space and how she came to deploy the Hubble in orbit. A page-turner, Sullivan's memoir is for more than space buffs. It's for anyone who loves a good read about an adventurous life written by the person who lived it." 
— Homer Hickam, author of Rocket Boys/October Sky
The MIT Press, 9780262043182, 304pp.
Publication Date: November 5, 2019
About the Author
Kathryn D. Sullivan is a NASA astronaut (retired), former Under Secretary of Commerce for Oceans and Atmosphere of the National Oceanic and Atmospheric Administration (NOAA), and an inductee in the Astronaut Hall of Fame.