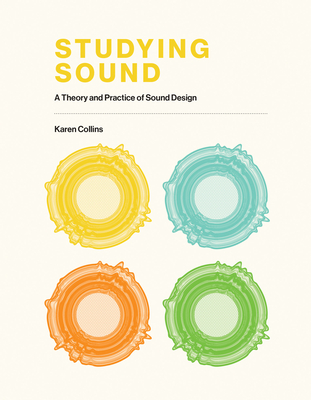 Studying Sound
A Theory and Practice of Sound Design
Hardcover

* Individual store prices may vary.
Description
An introduction to the concepts and principles of sound design practice, with more than 175 exercises that teach readers to put theory into practice.
This book offers an introduction to the principles and concepts of sound design practice, from technical aspects of sound effects to the creative use of sound in storytelling. Most books on sound design focus on sound for the moving image. Studying Sound is unique in its exploration of sound on its own as a medium and rhetorical device. It includes more than 175 exercises that enable readers to put theory into practice as they progress through the chapters.

The book begins with an examination of the distinction between hearing and listening (with exercises to train the ears) and then offers an overview of sound as an acoustic phenomenon. It introduces recording sound, covering basic recording accessories as well as theories about recording and perception; explores such spatial effects as reverberation and echo; and surveys other common digital sound effects, including tremolo, vibrato, and distortion. It introduces the theory and practice of mixing; explains surround and spatial sound; and considers sound and meaning, discussing ideas from semiotics and psychology. Finally, drawing on material presented in the preceding chapters, the book explores in detail using sound to support story, with examples from radio plays, audio dramas, and podcasts. Studying Sound is suitable for classroom use or independent study.
Praise For Studying Sound: A Theory and Practice of Sound Design…
"In Studying Sound, Karen Collins has condensed years of experience into a readable and highly informative learning resource. Packed full of indispensable tips and tricks, pithy experiments and exercises, and useful real-world anecdotes, Studying Sound is destined to become the budding sound designer's go-to reference and lifelong survival manual."
—Mark Grimshaw-Aagaard, Obel Professor of Music, Aalborg University; author of Sonic Virtuality and The Recording, Mixing, and Mastering Reference Handbook
 
"Studying Sound teaches sound design as a rich and complex craft that prepares the reader to work in media and the arts. Collins methodically brings together technology, theory, and practice into a valuable course of study for anyone keen to understand how sound operates."
—Larry Sider, The School of Sound
 
"Karen Collins has produced an impressive and pedagogically brilliant textbook for all of those studying sound design in the twenty-first century. It places the theory and mechanics of sound where it should be: center stage. This book will be an essential guide to students of sound design for years to come."
—Michael Bull, Professor of Sound Studies, University of Sussex; author of Sirens
 
"Is it possible to teach sound? Karen Collins presents an indispensable and fundamental introduction to understanding, working with, and analyzing sound on all levels. From now on, to teach the basics of sound means working with this book."
—Holger Schulze, Professor in Musicology, University of Copenhagen
The MIT Press, 9780262044134, 248pp.
Publication Date: September 1, 2020
About the Author
Karen Collins is Associate Professor in the Department of Communication Arts at the University of Waterloo. She is the author of ten books on sound, including Game Sound and Playing with Sound (both published by the MIT Press), and is the director of the film Beep: A Documentary History of Game Sound.