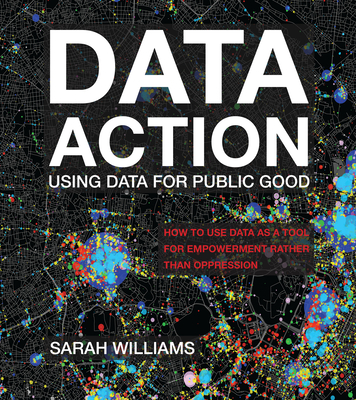 Data Action
Using Data for Public Good
Hardcover

* Individual store prices may vary.
Other Editions of This Title:
Paperback (9/20/2022)
Description
How to use data as a tool for empowerment rather than oppression.

Big data can be used for good--from tracking disease to exposing human rights violations--and for bad--implementing surveillance and control. Data inevitably represents the ideologies of those who control its use; data analytics and algorithms too often exclude women, the poor, and ethnic groups. In Data Action, Sarah Williams provides a guide for working with data in more ethical and responsible ways. Too often data has been used--and manipulated--to make policy decisions without much stakeholder input. Williams outlines a method that emphasizes collaboration among data scientists, policy experts, data designers, and the public. This approach creates trust and co-ownership in the data by opening the process to those who know the issues best.
Praise For Data Action: Using Data for Public Good…
"The work is accessible and uncomplicated. Readers will not get the sense that Williams is sitting alone in an armchair musing about her thoughts and generating ideas in isolation, but rather that her boots have been on the ground and her passport stamped. The narration is honest and transparent—Williams seems to know you're busy, too—but inspiring for planners who find themselves hesitant to try something new. We need such encouragement.
Finally, this work is useful for the planning profession and discipline, especially for those who think algorithmic bias and data production issues are confined to Silicon Valley and are searching for a bridge to translate the power issues behind tech and data into urban planning terms. It is appropriate for urbanists, imaginative planning practitioners, academics, and students, and with its glossy pages, heaps of color figures, and landscape layout, the coffee table will enjoy it as well."
-- the Journal of the American Planning Association

"Data Action—a perfect fusion of historical framing, critical reflection, and how-to instruction—powerfully demonstrates how collaborative, methodologically pluralistic, reflective, and publicly responsive modes of data design can incite civic change."
--Shannon Mattern, Professor of Anthropology, The New School; author of Code and Clay, Data and Dirt: 5000 Years of Urban Media
 
"There is nobody who understands the theory and practice of engaged civic data visualization better than Sarah Williams. Her reflective, absolutely fearless guide to the complexities of knowledge and power in this often-thorny domain distills her decades of experience into a single, indispensable volume—a pure gift to the aspiring practitioner."
-- Adam Greenfield, author of Radical Technologies: The Design of Everyday Life
 
"Data Action is a much needed, accessible guide to our complex digital world. Writing with clarity, Williams curates both appalling and inspiring examples to move us to act."
-- Annette Kim, Director of SLAB, Associate Professor at the University of Southern California Price School of Public Policy
 
"Sarah Williams is an urbanist and a designer—and Data Action asks about the ways in which we can use data to reshape urban space. Some of them are not so good. For those interested in the history of the interactions between urban planning and spatial data, for better and for worse, this book tells a compelling story. You will learn to stand your ground and insist that data be used responsibly in making cities and urban life better. For Williams, this is a matter of the utmost ethical and political urgency, of action. So, she weaves her own design work and breathtaking maps into a complex history of geographic information systems, a field that needs to be reckoned with if we want to take action. Williams performs this reckoning with didactic precision and fresh design strategies that demand our attention."
--Laura Kurgan, Professor of Architecture and Director, Center for Spatial Research, Graduate School of Architecture, Planning, and Preservation (GSAPP), Columbia University
The MIT Press, 9780262044196, 312pp.
Publication Date: December 8, 2020
About the Author
Sarah Williams is Associate Professor of Technology and Urban Planning at the MIT School of Architecture and Planning, where she is also Director of the Civic Data Design Lab. Trained in geography, landscape architecture, and urban planning, she was named one of the Top 25 Leading Thinkers in Urban Planning and Technology by Planetizen and 2012 Game Changer by Metropolis Magazine. Her designs and visualizations have been widely exhibited.