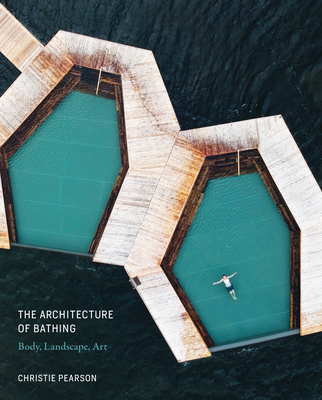 The Architecture of Bathing
Body, Landscape, Art
Hardcover

* Individual store prices may vary.
Description
A celebration of communal bathing—swimming pools, saunas, beaches, ritual baths, sweat lodges, and more—viewed through the lens of architecture and landscape.
We enter the public pool, the sauna, or the beach with a heightened awareness of our bodies and the bodies of others. The phenomenology of bathing opens all of our senses toward the physical world entwined with the social, while the history of bathing is one of shared space, in both natural and built environments. In The Architecture of Bathing, Christie Pearson offers a unique examination of communal bathing and its history from the perspective of architecture and landscape. Engagingly written and richly illustrated, with more than 260 illustrations, many in color, The Architecture of Bathing offers a celebration of spaces in which public and private, sacred and profane, ritual and habitual, pure and impure, nature and culture commingle.
Pearson takes a wide-ranging view of her subject, drawing on architecture, art, and literary works. Each chapter is structured around an architectural typology and explores an accompanying theme—for example, tub, sensuality; river, flow; waterfall, rejuvenation; and banya, immersion. Offering examples, introducing relevant theory, and recounting personal experiences, Pearson effortlessly combines a practitioner's zest with astonishing erudition. As she examines these forms, we see that they are inextricable from landscapes, bodily practices, and cultural production. Looking more closely, we experience architecture itself as an immersive material and social space, embedded inthe interdependent environmental and cultural fabric of our world.
Praise For The Architecture of Bathing: Body, Landscape, Art…
"Practically everywhere that bodies of water are accessible for public soaking, the architect and writer Christie Pearson has tried them out while taking glorious notes. Her book, The Architecture of Bathing: Body, Landscape, Art, careens around in time and place and ponders 'the bath's utopian and dystopian aspects.'" 
—New York Times Book Review

 "The award-winning Canadian architect and urban interventionist takes a thematic view of form and landscape in this wide-ranging survey of communal bathing's natural and built environments."
—The Globe and Mail

"The Architecture of Bathing, by the architect and University of Waterloo professor Christie Pearson, surveys famous, beautiful, and idiosyncratic balneal buildings, along with such objects as tubs and pools that are the props for ablution. Pearson's bathing summary is comprehensive, both historically and geographically."
—Literary Review of Canada

"Pearson's book moves from aquatic centre to sentō, waterfall to thermae bath, hammam to mud bath… in a stimulating, inclusive study of a social activity"
—RIBA Journal 

"The Architecture of Bathing is inherently about sense and censure: an excellent study into the artistic, medicinal and spiritual qualities of public bathing."
— Aesthetica Magazine
The MIT Press, 9780262044219, 304pp.
Publication Date: October 6, 2020
About the Author
Christie Pearson is an award-winning architect, writer, and urban interventionist. An Adjunct Professor at the University of Waterloo School of Architecture, she is coeditor of the architectural journal Scapegoat.