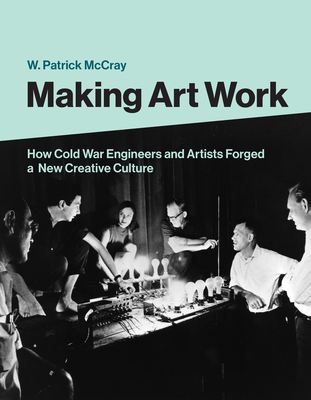 Making Art Work
How Cold War Engineers and Artists Forged a New Creative Culture
Hardcover

* Individual store prices may vary.
Description
The creative collaborations of engineers, artists, scientists, and curators over the past fifty years.
Artwork as opposed to experiment? Engineer versus artist? We often see two different cultural realms separated by impervious walls. But some fifty years ago, the borders between technology and art began to be breached. In this book, W. Patrick McCray shows how in this era, artists eagerly collaborated with engineers and scientists to explore new technologies and create visually and sonically compelling multimedia works. This art emerged from corporate laboratories, artists' studios, publishing houses, art galleries, and university campuses. Many of the biggest stars of the art world—Robert Rauschenberg, Yvonne Rainer, Andy Warhol, Carolee Schneemann, and John Cage—participated, but the technologists who contributed essential expertise and aesthetic input often went unrecognized.
Coming from diverse personal backgrounds, this roster of engineers and scientists includes Frank J. Malina, the American rocket pioneer-turned-kinetic artist who launched the art-science journal Leonardo, and Swedish-born engineer Billy Klüver, who established the group Experiments in Art and Technology (E.A.T). At schools ranging from MIT to Caltech, engineers engaged with such figures as artist Gyorgy Kepes and celebrity curator Maurice Tuchman.
Today, we are in the midst of a new surge of corporate and academic promotion of projects and programs combining art, technology, and science. Making Art Work reveals how artists and technologists have continually constructed new communities in which they exercise imagination, display creative expertise, and pursue commercial innovation.
Praise For Making Art Work: How Cold War Engineers and Artists Forged a New Creative Culture…
"Patrick McCray's excellent new book, Making Art Work [...] provides a comprehensive history of postwar artistic and scientific collaborations in the United States."
—Science

"In Making Art Work, W. Patrick McCray asks why and how American artists and engineers collaborated to produce this kind of technological art in the 1960s and 1970s. [....] this book also provokes additional questions. Of what did technological art make people aware? Could it in fact contribute to solving social problems like hunger, homelessness, and war? How did patriarchy and white supremacy shape this art and the awareness it produced? What roles did women and people of color play in constructing and contesting it? Although none of these questions is at the center of McCray's book, he points toward some of the answers."
—Los Angeles Review of Books

"A thoughtful and engaging study that provides a good introduction to the surge of art and technology from the Cold War to the counterculture of the 1960s, offering new insights into the artists of the period that took advantage of the skillset and knowledge of engineers."
—Engineering and Technology

"An insightful and absorbing [book] by the historian W. Patrick McCray reveals the motivations and impact of this idealistic confluence of artistic radicals and mages of the Cold War."
—Jonathon Keats, Forbes

"A well-documented and accessible history of the interrelationship between technology and art that has produced ground-breaking processes, hybrid minds and ideas."
—Neural

"As McCray shows, the seemingly impermeable barriers between science and art have in fact been highly porous. The two cultures do, it seems, have common ground."
—Physics Today
The MIT Press, 9780262044257, 344pp.
Publication Date: October 20, 2020
About the Author
W. Patrick McCray, Professor in the History Department at the University of California, Santa Barbara, is the author of four other books, including the prize-winning The Visioneers.
or
Not Currently Available for Direct Purchase