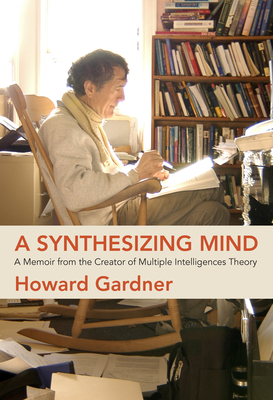 A Synthesizing Mind
A Memoir from the Creator of Multiple Intelligences Theory
Hardcover

* Individual store prices may vary.
Other Editions of This Title:
Digital Audiobook (9/28/2020)
Paperback (3/22/2022)
Description
An authority on the human mind reflects on his intellectual development, his groundbreaking work, and different types of intelligences—including his own.
Howard Gardner's Frames of Mind was that rare publishing phenomenon—a mind-changer. Widely read by the general public as well as by educators, this influential book laid out Gardner's theory of multiple intelligences. It debunked the primacy of the IQ test and inspired new approaches to education; entire curricula, schools, museums, and parents' guides were dedicated to the nurturing of the several intelligences. In his new book, A Synthesizing Mind, Gardner reflects on his intellectual development and his groundbreaking work, tracing his evolution from bookish child to eager college student to disengaged graduate student to Harvard professor.
Gardner discusses his mentors (including Erik Erikson and Jerome Bruner) and his collaborators (Mihaly Csikszentmihalyi, William Damon, and others). Comedian Groucho Marx makes a surprise (non-)appearance, declining Gardner's invitation to chat with Harvard College students, in favor of "making a living."
Throughout his career, Gardner has focused on human minds in general, or on the minds of particular creators and leaders. Reflecting now on his own mind, he concludes that his is a "synthesizing mind"—with the ability to survey experiences and data across a wide range of disciplines and perspectives. The thinkers he most admires—including historian Richard Hofstadter, biologist Charles Darwin, and literary critic Edmund Wilson—are exemplary synthesizers. Gardner contends that the synthesizing mind is particularly valuable at this time and proposes ways to cultivate a possibly unique human capacity.
Praise For A Synthesizing Mind: A Memoir from the Creator of Multiple Intelligences Theory…
"An insightful memoir from an eminent psychologist."
– Kirkus Reviews

"An easy and worthwhile read."
– The Washington Post

"In a world where brains and neurons have too readily been exploited as explanations for human behavior, Howard Gardner's much awaited memoir takes us in a different direction: into the life of the mind. More impressively still, this deeply reflective text opens up to every reader's inspection the extraordinary mind in the life of one of the greatest and most frequently cited intellectuals of modern times." 
– Andy Hargreaves, Research Professor, Boston College; author of Moving: A Memoir of Education and Social Mobility

"This is a personal yet objective account of the evolution of a peerless scholar. Howard's reflective storytelling and his insightful narration of the events that shaped him are a joy to read, giving us an intimate insight into how multiple, often seemingly disparate threads intertwine to shape an exceptional mind."
– Kiran Bir Sethi, Founder, The Riverside School and Design for Change

"It's been quipped that theories in psychology are true of those who propose them, and that's certainly the case with Howard Gardner: creative, openminded, artful, disciplined, and in command of multiple intelligences. It's a cause for celebration that one of our most influential living psychologists has trained his insight onto his own life and work." 
– Steven Pinker, Johnstone Professor of Psychology, Harvard University; author of How the Mind Works and Enlightenment Now

"Read this book for Gardner's self-reflection — a mind that synthesizes ideas writing about how it came to be a mind that synthesizes ideas — and for what he has to say about the changing academic and intellectual world around him. Are we narrowing our focus when we most need open minds?" 
– Sherry Turkle, Professor, MIT; author of Reclaiming Conversation: The Power of Talk in a Digital Age and Alone Together: Why We Expect More from Technology and Less from Each Other

"Howard Gardner has done what scholars dream of doing but rarely accomplish: he had a powerfully original idea which he developed in a way that changed an entire field, reaching well beyond the academy and affecting our nation's social policy and collective understanding. A Synthesizing Mind is an illuminating account of how such a breakthrough came about, a thick description of the life trajectory and the intellectual formation that led to this enduring achievement." 
– Stephen Greenblatt, author of Tyrant: Shakespeare on Politics
The MIT Press, 9780262044264, 304pp.
Publication Date: September 29, 2020
About the Author
Howard Gardner is John H. and Elisabeth A. Hobbs Research Professor of Cognition and Education at the Harvard Graduate School of Education. Best known as the originator of the Theory of Multiple Intelligences, he is the author of thirty books, including Frames of Mind: The Theory of Multiple Intelligences; Truth, Beauty, and Goodness Reframed; and The App Generation (with Katie Davis).