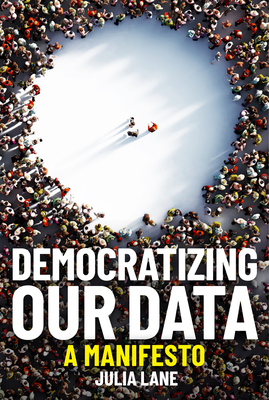 Democratizing Our Data
A Manifesto
Hardcover

* Individual store prices may vary.
Other Editions of This Title:
Paperback (10/19/2021)
Description
A wake-up call for America to create a new framework for democratizing data.
Public data are foundational to our democratic system. People need consistently high-quality information from trustworthy sources. In the new economy, wealth is generated by access to data; government's job is to democratize the data playing field. Yet data produced by the American government are getting worse and costing more. In Democratizing Our Data, Julia Lane argues that good data are essential for democracy. Her book is a wake-up call to America to fix its broken public data system.
Lane argues that we must rethink ways to democratize data; there are successful models to follow and new legislation that can help effect change. The private sector's data revolution—which creates new types of data and new measurements to build machine learning and artificial intelligence algorithms—can be mirrored by a public sector data revolution characterized by attention to counting all who should be counted, measuring what should be measured, and protecting privacy and confidentiality. Just as Google, Amazon, Microsoft, Apple, and Facebook have led the world in the use of data for profit, the United States can show the world how to produce data for the public good.  
Lane calls for a more automated, transparent, and accountable framework for creating high-quality public data that would empower citizens and inspire the workforce that serves them. And she outlines an organizational model that has the potential to make data more accessible and useful. As she says, failure to act threatens our democracy.
Praise For Democratizing Our Data: A Manifesto…
"Lane, a professor of public policy at NYU, delivers a persuasive, evidence-based argument for building a new public data system in order to safeguard privacy and improve the government's ability to implement policy initiatives...she writes in straightforward, accessible prose and makes a convincing case for reform. Policymakers will want to take note."
–Publishers Weekly

"This pithy volume is a must-read account of what the US federal statistical agencies are, what they do and why public statistics are vital to democracy. If we cannot be counted, we cannot be heard."
– Nature 

"This work is an exceptionally valuable read for any student of data analytics, whether working in public health or public affairs."
–CHOICE

"A persuasive case and actionable vision for refashioning government data collection and analysis to more efficiently and effectively serve public needs." 
– John Overdeck, President, Overdeck Family Foundation
 
"Julia Lane is a brilliant visionary with the rare ability to bring her visions successfully to fruition. Her manifesto is a clarion call we must heed to ensure a dynamic and viable future for timely, relevant, accurate, and objective federal statistical data. A mustread."
– Nancy Potok, former Chief Statistician of the United States

"Julia Lane paints a grim picture of the current state of government data collection. But she also describes practical ways to modernize and improve the systems that provide this data. Everyone interested in improved policy making should read this book."
– Hal Varian, Chief Economist, Google

"A compelling call to modernize the way we collect and analyze public data, so that citizens, firms, and policy makers make better decisions in the twenty-first century."
– Tom Kalil, Chief Innovation Officer, Schmidt Futures; former Deputy Director for Technology and Innovation for the White House Office of Science and Technology Policy

"A must-read. A marvelous (and badly needed) recipe to harness the power of public data to enlighten us all."
– David T. Ellwood, Isabelle and Scott Black Professor of Political Economy, John F. Kennedy School of Government at Harvard University
The MIT Press, 9780262044325, 192pp.
Publication Date: September 1, 2020
About the Author
Julia Lane is a founder of the Coleridge Initiative, Professor at the NYU Wagner Graduate School of Public Service and the NYU Center for Urban Science and Progress, and an NYU Provostial Fellow for Innovation Analytics.