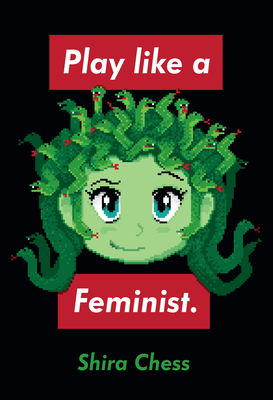 Play like a Feminist. (Playful Thinking)
Hardcover

* Individual store prices may vary.
Description
Why video games need feminism and feminism needs video games.
"You play like a girl": it's meant to be an insult, accusing a player of subpar, un-fun playing. If you're a girl, and you grow up, do you "play like a woman"—whatever that means? In this provocative and enlightening book, Shira Chess urges us to play like feminists. Furthermore, she urges us to play video games like feminists. Playing like a feminist is empowering and disruptive; it exceeds the boundaries of gender yet still advocates for gender equality. Playing like a feminist offers a new way to think about how humans play —and also a new way to think about how feminists do their feministing. Chess argues that feminism need video games as much as video games need feminism.
Video games, Chess tells us, are primed for change. Roughly half of all players identify as female, and Gamergate galvanized many of gaming's disenfranchised voices. Games themselves are in need of a creative platform-expanding, metaphysical explosion; feminism can make games better. Chess reflects on the importance of play, and playful protest, and how feminist video games can help us rethink the ways that we tell stories. She proposes "Women's Gaming Circles"—which would function like book clubs for gaming—as a way for feminists to take back play. (An appendix offers a blueprint for organizing a gaming circle.) Play and games can be powerful. Chess's goal is for all of us—regardless of gender orientation, ethnicity, ability, social class, or stance toward feminism—to spend more time playing as a tool of radical disruption.
Praise For Play like a Feminist. (Playful Thinking)…
"In this highly readable volume, Chess (Univ. of Georgia) considers why video games should pay mind to feminism, and why feminism should in turn pay mind to gamers...Chess grounds her arguments in an array of theoretical frameworks, giving readers a gateway into many areas of game studies. One hopes that this accessible and empowering book will inspire more gamers to play like feminists and feminists to play more."
–CHOICE

"Play like a Feminist. is a crucial contribution to conversations around gaming, power, and labor. Chess shows us all the importance of reclaiming games as a feminist act and provides a blueprint for how feminists of all ages can approach them in new and joyful ways."
– Adrienne Shaw, Associate Professor, Temple University, and author of Gaming at the Edge

"This book is a hopeful and upbeat foray into the intersection of feminism and games, with an activist bent. I love the idea of Gaming Circles — as a games researcher who has spent a lifetime 'playing like a girl,' I may take Chess up on the suggestion of circling up more people in my life outside the narrow bounds of 'gamer' toward a richer and more diverse dialog around this important cultural form." 
– Katherine Isbister, Professor of Computational Media, School of Engineering, University of California, Santa Cruz; author of How Games Move Us; Founding Fellow, Higher Education Video Game Alliance
The MIT Press, 9780262044387, 184pp.
Publication Date: August 18, 2020
About the Author
Shira Chess is Associate Professor of Entertainment and Media Studies at the University of Georgia and the author of Ready Player Two.
or
Not Currently Available for Direct Purchase