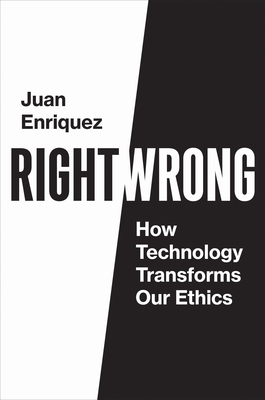 Right/Wrong
How Technology Transforms Our Ethics
Hardcover

* Individual store prices may vary.
Other Editions of This Title:
Paperback (9/14/2021)
Description
From the TED stage to the page, Juan Enriquez, author of As the Future Catches You and Evolving Ourselves, presents a lively and engaging guide to ethics in a technological age.

Most people have a strong sense of right and wrong, and many of us are not reluctant to argue with someone who disagrees. But when we take an unyielding stand on something we regard as an eternal truth, we forget that ethics evolve over time. What was once broadly acceptable is now completely unacceptable. For example, burning heretics is no longer considered a just punishment. Child marriage is not applauded as a family value. Many shifts in the right vs. wrong pendulum are affected by advances in technology. In Right/Wrong, Juan Enriquez reflects on the evolution of ethics in a technological age.
Praise For Right/Wrong: How Technology Transforms Our Ethics…
"Enriquez turns what can be perceived as a dull subject into a witty and insightful piece of storytelling, challenging our perception of what we think is right and wrong."
—Engineering and Technology

"This book will make you uncomfortable and it will make you think. Enriquez challenges all of us to consider how our actions, decisions, and policies will be judged by future generations. And that judgment is not likely to be pretty unless we work through hard problems and make some big changes in a hurry."
—John Palfrey, President of the John D. and Catherine T. MacArthur Foundation

"Don't get caught on the wrong side of changing ethics and exponential technologies.  Juan Enriquez potently leverages the past to predict the future or, better yet, to change it. From COVID-19 to CO2 this book is timely, yet timeless. Could this beautiful little book depolarize our politics? Could it turn rationalization into rational rationales?  Convert static, dismissive myopia into comprehensive exohexahedralism? Let's do more than hope so; let's make it so."
—George Church, Professor of Genetics at Harvard Medical School; founding member of the Wyss Institute for Biologically Inspired Engineering
 
"With wit, insight, and masterful storytelling, Juan Enriquez challenges our certainty about what's right and wrong in an age of rapid biological innovation and technologies that give us the power to literally transform our species. This book shows us how inextricably linked our ethics are to our technologies and reminds us with empathy and humility that even ethics evolve."
—Jane Metcalfe, Cofounder of Wired and Founder of NEO.LIFE
 
"Juan Enriquez bravely asks ethical questions in the light of new technologies, thoughtfully examining topics that range from mass incarceration to artificial intelligence. Whether you agree with him or not, you will want to read what he has to say."
—Danny Hillis, pioneer of parallel computing and artificial intelligence; Founder, Thinking Machines Corporation, and Cofounder, Applied Minds, and Applied Invention
 
"Here's a revolutionary idea: technology is changing daily, and therefore so are our ethics. But isn't ethics a bit academic, even boring? Not if an exploration of its mashup with technology makes you question whether you understand the difference between right and wrong. Along the way on this extraordinary journey of discovery about everything from the former oceans on Venus to our present day culture wars, Enriquez will introduce you to at least a thousand new facts—and ideas—that will leave your head spinning. This is a joyride for the mind, and like a good roller coaster, it's delightfully scary."
—Stephen Petranek, former editor of Discover, the Washington Post Magazine, This Old House Magazine, and Time
 
"One of our nation's deepest thinkers about the long-term implications of technology on our society here provides a riveting case-book and compelling argument about how and why the passage of time changes all ethical considerations. How does it happen?Inexorable technological advances create new opportunities to make different, and better, ethical decisions, Enriquez argues. But this comes with a price: we face the overwhelming temptation to castigate our forebears for their unethical acts. This should humble us because this means our descendants will also be judging us, when their technology improves. Vivid, stimulating, and provocative."
—Nicholas A. Christakis, Blueprint: The Evolutionary Origins of a Good Society
 
The MIT Press, 9780262044424, 304pp.
Publication Date: October 13, 2020
About the Author
Juan Enriquez is the author of As the Future Catches You, Evolving Ourselves, and other books. A frequent speaker at TED and other conferences, he has contributed to such publications as Harvard Business Review and Foreign Policy. He is the Director of Excel Venture Management, a life sciences venture capital firm.