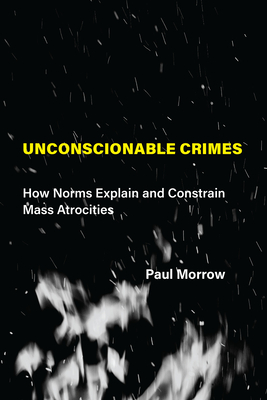 Unconscionable Crimes
How Norms Explain and Constrain Mass Atrocities
Hardcover

* Individual store prices may vary.
Description
The first general theory of the influence of norms—moral, legal and social—on genocide and mass atrocity.
How can we explain—and prevent—such large-scale atrocities as the Holocaust? In Unconscionable Crimes, Paul Morrow presents the first general theory of the influence of norms on genocide and mass atrocity. After offering a clear overview of norms and norm transformation, rooted in recent work in moral and political philosophy, Morrow examines numerous twentieth-century cases of mass atrocity, drawing on documentary and testimonial sources to illustrate the influence of norms before, during, and after such crimes. 
Morrow considers such key explanatory pathways as the erosion of moral norms through brutalization and demoralization, the exploitation of legal norms to legitimize persecution and deny violence, and the enduring influence of gender-based social norms on targets and perpetrators of atrocities. Key constraints on atrocities would include the revision of moral norms that have traditionally guided the conduct of soldiers and humanitarian aid workers, the strengthening of legal prohibitions on large-scale crimes through statutory and institutional reform, and the elimination of social norms prescribing silence about personal experience of atrocities. Throughout, Morrow emphasizes the differences among moral, legal, and social norms, which stand in different relations to real or perceived social practices, and exhibit different patterns of creation, modification, and elimination. Ultimately, he argues, norms of each kind are integral to the explanation and the prevention of mass atrocities.
Praise For Unconscionable Crimes: How Norms Explain and Constrain Mass Atrocities…
"This book is a beautiful example of a problem-centered philosophical approach that seeks to make a difference in how we understand our history, our present, and our future. At a historical moment when the norms undergirding democratic, rule of law, and equality values are under tremendous threat, Unconscionable Crimes is urgently required reading."
—Christopher Kurtz, C. William Maxeiner Distinguished Professor of Law, University of California, Berkeley
 
 
"An extraordinary work, original and compelling in the analysis of mass killing: its causal origins and means together with the prospects of intervention and prevention. Morrow brings together philosophy, social theory, and legal history in a conceptual and, more unusually, practical confrontation with a terrible but recurrent feature of human conduct."
—Berel Lang, Professor of Philosophy Emeritus at the State University of New York, Albany

"[D]oes a great service in illuminating the norm-governed dimensions of atrocities and their prevention. [ . . . ] Morrow valuably catalogs and synthesizes insights from across the social sciences and philosophy. [ . . . ] His clear and parsimonious definitions of different kinds of norms and normative processes will be useful for scholars, and they can be applied beyond mass atrocities to the dynamics of human rights violations more generally. [ . . . ] Morrow's prose is lucid, concise, and highly readable. [ . . . ] [H]is insights [ . . . ] may lower the likelihood of mass violence."
—Perspectives on Politics


"Paul Morrow, a philosopher who is currently a Human Rights Fellow at the University of Dayton, has written a much-needed study of the relationships between moral, legal, and social norms and the all-too-human, in this case genocide and other mass atrocities. [ . . . ] [H]is book illuminates the weakness of much of the received wisdom about both prevention and explanation of why mass atrocities take place: norms lie at the heart of his account and they are as he tells the story part and parcel of atrocity."
—Holocaust and Genocide Studies
The MIT Press, 9780262044622, 272pp.
Publication Date: September 22, 2020
About the Author
Paul C. Morrow is John M. Meagher Human Rights Fellow at the Human Rights Center of the University of Dayton. He was previously a visiting researcher at Utrecht University.
or
Not Currently Available for Direct Purchase