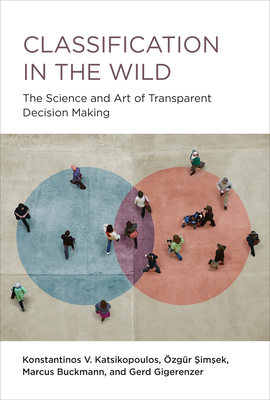 Classification in the Wild
The Science and Art of Transparent Decision Making
Hardcover

* Individual store prices may vary.
Description
Rules for building formal models that use fast-and-frugal heuristics, extending the psychological study of classification to the real world of uncertainty.

This book focuses on classification--allocating objects into categories--"in the wild," in real-world situations and far from the certainty of the lab. In the wild, unlike in typical psychological experiments, the future is not knowable and uncertainty cannot be meaningfully reduced to probability. Connecting the science of heuristics with machine learning, the book shows how to create formal models using classification rules that are simple, fast, and transparent and that can be as accurate as mathematically sophisticated algorithms developed for machine learning.
The MIT Press, 9780262045155, 200pp.
Publication Date: February 2, 2021
About the Author
Konstantinos Katsikopoulos is Associate Professor (Reader) of Behavioural Operations at the Southampton Business School, where he is also Head of Research in the Department of Decision Analytics and Risk. Ozgur Simsek is Senior Lecturer in Machine Learning in the Department of Computer Science at the University of Bath, where he is also Deputy Director of the Institute for Mathematical Innovation. Marcus Buckmann is Senior Data Research Analyst at the Advanced Analytics Division of the Bank of England. Gerd Gigerenzer is Director of the Harding Center for Risk Literacy at the Max Planck Institute for Human Development in Berlin and Partner in Simply Rational--The Institute for Decisions.