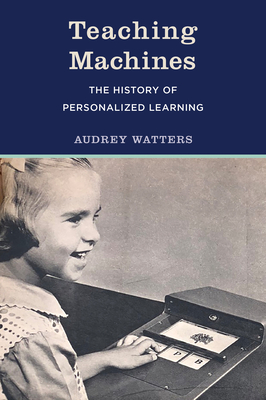 Teaching Machines
The History of Personalized Learning
Hardcover

* Individual store prices may vary.
Description
How ed tech was born: Twentieth-century teaching machines--from Sidney Pressey's mechanized test-giver to B. F. Skinner's behaviorist bell-ringing box.

Contrary to popular belief, ed tech did not begin with videos on the internet. The idea of technology that would allow students to "go at their own pace" did not originate in Silicon Valley. In Teaching Machines, education writer Audrey Watters offers a lively history of predigital educational technology, from Sidney Pressey's mechanized positive-reinforcement provider to B. F. Skinner's behaviorist bell-ringing box. Watters shows that these machines and the pedagogy that accompanied them sprang from ideas--bite-sized content, individualized instruction--that had legs and were later picked up by textbook publishers and early advocates for computerized learning.

Watters pays particular attention to the role of the media--newspapers, magazines, television, and film--in shaping people's perceptions of teaching machines as well as the psychological theories underpinning them. She considers these machines in the context of education reform, the political reverberations of Sputnik, and the rise of the testing and textbook industries. She chronicles Skinner's attempts to bring his teaching machines to market, culminating in the famous behaviorist's efforts to launch Didak 101, the "pre-verbal" machine that taught spelling. (Alternate names proposed by Skinner include "Autodidak," "Instructomat," and "Autostructor.") Telling these somewhat cautionary tales, Watters challenges what she calls "the teleology of ed tech"--the idea that not only is computerized education inevitable, but technological progress is the sole driver of events.
Praise For Teaching Machines: The History of Personalized Learning…
"This is a landmark book..."Reading Teaching Machines is like donning a pair of glasses that suddenly makes much of the present more explicable. This is why I want to urge people to read this book with all possible haste."
  —Inside Higher Ed

"For generations, important men (like B.F. Skinner) have been promising that technology will take the place of teachers. Watters deep history examines the forces that view teaching, teachers, and students as problems to be solved, rather than humans to be engaged."
—Chicago Tribune

"A thoroughly researched book...The book is fascinating and very readable, loaded with well-chosen details. Reading this story, one suspects it might be fair to say that it is ed tech, not public education, that has not made a significant step forward in the last 100 years." 
 —Forbes

"Watters's central thesis is a powerful one, and Teaching Machines provides a breath-taking array of examples to back it up."
—Schools Week

"Watters' much-anticipated and long-in-the- making book fills a gaping hole in our understanding of the origin and implementation of education technology...This major piece of work will establish her as the foremost public intellectual and independent scholar in the field."
—EduBlog

"Long before the advent of personal computers, inventors and researchers created what they called "teaching machines" in hopes of revolutionizing education. Some of these creations date back to the 1920s, and were made from wood and brass. Yet today's edtech leaders often ignore or choose to forget this history, argues Audrey Watters, a longtime critical observer of edtech...Watters traces the history of these pre-computer-age gadgets in her new book, Teaching Machines: The History of Personalized Learning.
—EdSurge

"... a fascinating history"
—Education Next

The MIT Press, 9780262045698, 316pp.
Publication Date: August 3, 2021
About the Author
Audrey Watters is a writer on education and technology. She is the creator of the popular blog Hack Education (hackeducation.com) and the author of widely read annual reviews of educational technology news and products.