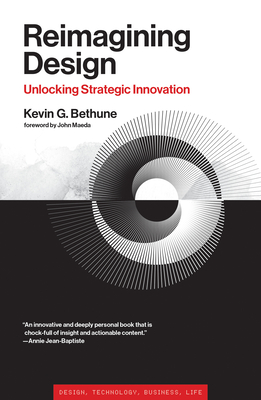 Reimagining Design
Unlocking Strategic Innovation (Simplicity: Design, Technology, Business, Life)
Hardcover

* Individual store prices may vary.
Other Editions of This Title:
Digital Audiobook (5/9/2022)
Description
The power of transformative design, multidisciplinary leaps, and diversity: lessons from a Black professional's journey through corporate America.

Design offers so much more than an aesthetically pleasing logo or banner, a beautification add-on after the heavy lifting. In Reimagining Design, Kevin Bethune shows how design provides a unique angle on problem-solving—how it can be leveraged strategically to cultivate innovation and anchor multidisciplinary teamwork. As he does so, he describes his journey as a Black professional through corporate America, revealing the power of transformative design, multidisciplinary leaps, and diversity. Bethune, who began as an engineer at Westinghouse, moved on to Nike (where he designed Air Jordans), and now works as a sought-after consultant on design and innovation, shows how design can transform both individual lives and organizations.

In Bethune's account, diversity, equity, and inclusion emerge as a recurring theme. He shows how, as we leverage design for innovation, we also need to consider the broader ecological implications of our decisions and acknowledge the threads of systemic injustice in order to realize positive change. His book is for anyone who has felt like the "other"—and also for allies who want to encourage anti-racist, anti-sexist, and anti-ageist behaviors in the workplace. Design transformation takes leadership—leaders who do not act as gatekeepers but, with agility and nimbleness, build teams that mirror the marketplace.

Design in harmony with other disciplines can be incredibly powerful; multidisciplinary team collaboration is the foundation of future innovation. With insight and compassion, Bethune provides a framework for bringing this about.
Praise For Reimagining Design: Unlocking Strategic Innovation (Simplicity: Design, Technology, Business, Life)…
"Bethune's book is an essential resource for designers looking to shake up the industry… The book provides insights for people of color who want to get ahead in the industry, while also challenging norms and systemic injustice. Because the righting of these wrongs demands intersectional collaboration, it's also a resource for allies. Those who are looking to upend barriers for previously excluded communities and welcome the innovation new voices bring to the practice will find helpful actionable items within the writing. In other words, Reimagining Design is the kind of narrative the industry is in desperate need of as design and its place in the world evolves."

—Core77

"At a time of increasing uncertainty, what can we do to solve ever-changing problems? Designer Kevin Bethune takes on that thorny issue in his new book, with a view to diversity and inclusion."

—Design Week

The MIT Press, 9780262046503, 208pp.
Publication Date: March 15, 2022
About the Author
Kevin G. Bethune is the Founder and Chief Creative Officer of dreams • design + life, a think tank for design and innovation. Over a career that spans more than twenty years, he has worked in engineering, business, and design.