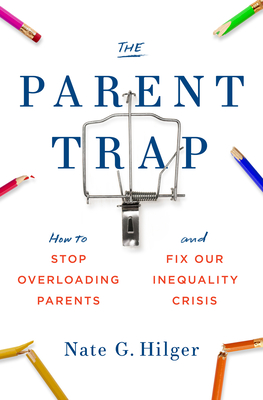 The Parent Trap
How to Stop Overloading Parents and Fix Our Inequality Crisis
Hardcover

* Individual store prices may vary.
Other Editions of This Title:
Digital Audiobook (4/18/2022)
Paperback (4/4/2023)
MP3 CD (4/19/2022)
Compact Disc (4/19/2022)
Description
How parents have been set up to fail, and why helping them succeed is the key to achieving a fair and prosperous society.

Few people realize that raising children is the single largest industry in the United States. Yet this vital work receives little political support, and its primary workers—parents—labor in isolation. If they ask for help, they are made to feel inadequate; there is no centralized organization to represent their interests; and there is virtually nothing spent on research and development to help them achieve their goals. It's almost as if parents are set up to fail—and the result is lost opportunities that limit children's success and make us all worse off. In The Parent Trap, Nate Hilger combines cutting-edge social science research, revealing historical case studies, and on-the-ground investigation to recast parenting as the hidden crucible of inequality.
 
Parents are expected not only to care for their children but to help them develop the skills they will need to thrive in today's socioeconomic reality—but most parents, including even the most caring parents on the planet, are not trained in skill development and lack the resources to get help. How do we fix this? The solution, Hilger argues, is to ask less of parents, not more. America should consider child development a public investment with a monumental payoff. We need a program like Medicare—call it Familycare—to drive this investment. To make it happen, parents need to organize to wield their political power on behalf of children—who will always be the largest bloc of disenfranchised people in this country. 
 
The Parent Trap exposes the true costs of our society's unrealistic expectations around parenting and lays out a profoundly hopeful blueprint for reform.
Praise For The Parent Trap: How to Stop Overloading Parents and Fix Our Inequality Crisis…
A Greater Good Magazine Favorite Parenting Book of 2022


A Next Big Idea Club nominee



"The Parent Trap is a provocative, well-written, and creative analysis of the problem of parenting in America and what to do about it, making a bold case for policy changes to support parents and children in new ways."
—James J. Heckman, Henry Schultz Distinguished Service Professor in Economics and the College, University of Chicago; recipient of the 2000 Nobel Prize in Economics
 
"Hilger expertly weaves together cutting-edge science and historical narratives to give us a fresh perspective on how we can help parents raise children and combat growing inequality across generations. Captivating, rigorous, and insightful, this book will be valuable for everyone from parents to policy makers."
—Raj Chetty, William A. Ackman Professor of Economics, Harvard University
 
"Few books open your mind to a new way of seeing an issue. This book is the rare exception. The right role for parents, according to Hilger, is not to provide children the skills they need to succeed but to band together to advocate for new and better policies in the public domain. This impassioned and highly readable book lays out an ambitious policy agenda supported by a fresh way of seeing deep inequalities by race and class."
—Isabel Sawhill, Senior Fellow, the Brookings Institution; author of The Forgotten Americans and Generation Unbound
 
"DON'T READ THIS BOOK—unless you want assumptions on the origins of inequality replaced with facts. Nate Hilger brilliantly weaves together the very best social science research on youth outcomes and parenting to highlight our successes but also how our society can do much better if we dare."
—Bruce Sacerdote, Richard S. Braddock 1963 Professor in Economics, Dartmouth College
 
"Surely among the most important books of the year. This groundbreaking and clearly written book offers concrete solutions for one of the biggest problems facing contemporary society: the unreasonable expectations we place on parents. A must-read for scholars, policy makers, activists, and, yes, parents."
—Seth Stephens-Davidowitz, New York Times bestselling author of Everybody Lies

"Hilger makes a compelling argument for federal investment in child-rearing."—Library Journal

"Hilger is willing to say truths that are often not said. . . . An interesting and challenging book."—Alex Tabarrok, Marginal Revolution
 
"[Hilger's] book is both informative and a call to action for those who care about the well-being of children—which should be all of us."—Jill Suttie, Greater Good Magazine
 
"Terrific—smartly argued and very well written. The basic theme is that society needs to do more to help children build skills outside of the normal school day."—Greg Mankiw's Blog
 
"[The Parent Trap] brings together a lot of data in pursuit of a valuable and noble goal. Many kids in the US (and Europe) get a bum deal and their talent is not realized! . . . The Parent Trap has a clear diagnosis of the problem, and believes it is worth trying to fix it."—David Hugh-Jones, Less Wrong blog
The MIT Press, 9780262046688, 304pp.
Publication Date: April 26, 2022
About the Author
Nate G. Hilger is an economist and data scientist in Silicon Valley. His work on the origins of success in children has been featured in the New York Times, the Washington Post, the Atlantic, and other media outlets. He has published articles in the Quarterly Journal of Economics and other leading academic journals.
or
Not Currently Available for Direct Purchase