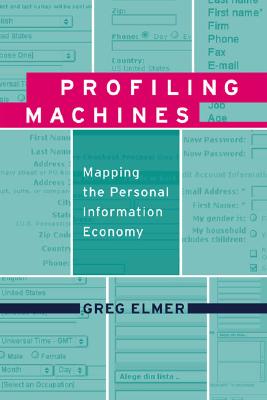 Profiling Machines
Mapping the Personal Information Economy
Hardcover

* Individual store prices may vary.
Description
The cultural and media studies perspectives on the technology of electronic consumer profiling.
In this book Greg Elmer brings the perspectives of cultural and media studies to the subject of consumer profiling and feedback technology in the digital economy. He examines the multiplicity of processes that monitor consumers and automatically collect, store, and cross-reference personal information. When we buy a book at Amazon.com or a kayak from L.L. Bean, our transactions are recorded, stored, and deployed to forecast our future behavior--thus we may receive solicitations to buy another book by the same author or the latest in kayaking gear. Elmer charts this process, explaining the technologies that make it possible and examining the social and political implications.
Elmer begins by establishing a theoretical framework for his discussion, proposing a diagrammatic approach that draws on but questions Foucault's theory of surveillance. In the second part of the book, he presents the historical background of the technology of consumer profiling, including such pre-electronic tools as the census and the warranty card, and describes the software and technology in use today for demographic mapping. In the third part, he looks at two case studies--a marketing event sponsored by Molson that was held in the Canadian Arctic (contrasting the attendees and the indigenous inhabitants) and the use of cookies to collect personal information on the World Wide Web, which (along with other similar technologies) automate the process of information collection and cross-referencing. Elmer concludes by considering the politics of profiling, arguing that we must begin to question our everyday electronic routines.
MIT Press, 9780262050739, 179pp.
Publication Date: December 23, 2003
About the Author
Greg Elmer is Associate Professor of Communications at Florida State University. He is the editor of Critical Perspectives on the Internet and co-editor of the journal Space and Culture.
or
Not Currently Available for Direct Purchase