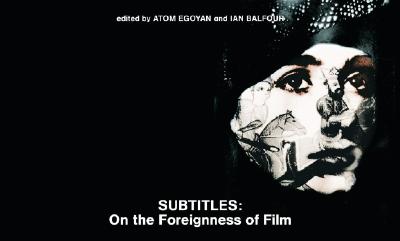 Subtitles (Hardcover)
On the Foreignness of Film (Alphabet City)
Mit Press, 9780262050784, 544pp.
Publication Date: October 1, 2004
* Individual store prices may vary.
Description
Translating the experience of film: filmmakers, writers, and artists explore the elements of film that make us feel "outside and inside at the same time."
"Every film is a foreign film," Atom Egoyan and Ian Balfour tell us in their introduction to Subtitles. How, then, to translate the experience of film--which, as Egoyan says, makes us "feel outside and inside at the same time"? Taking subtitles as their point of departure, the thirty-two contributors to this unique collection consider translation, foreignness, and otherness in film culture. Their discussions range from the mechanics and aesthetics of subtitles themselves to the xenophobic reaction to translation to subtitles as a metaphor for the distance and intimacy of film. The essays, interviews, and visuals include a collaboration by Russell Banks and Atom Egoyan, which uses quotations from Banks's novel The Sweet Hereafter as subtitles for publicity stills from Egoyan's film of the book; three early film reviews by Jorge Luis Borges; an interview with filmmaker Claire Denis about a scene in her film Friday Night that should not have been subtitled; and Eric Cazdyn's reading of the running subtitles on CNN's post-9/11 newscasts as a representation of new global realities. Several writers deal with translating cultural experience for an international audience, including Frederic Jameson on Balkan cinema, John Mowitt on the history of the "foreign film" category in the Academy Awards, and Ruby Rich on the marketing of foreign films and their foreign languages--"Somehow, I'd like to think it's harder to kill people when you hear their voices," she writes. And Slavoj Zizek considers the "foreign gaze" (seen in films by Hitchcock, Lynch, and others), the misperception that sees too much. Designed by Egoyan and award-winning graphic designer Gilbert Li, the book includes many color images and ten visual projects by artists and filmmakers. The pages are horizontal, suggesting a movie screen; they use the cinematic horizontal aspect ratio of 1.66:1. Subtitles gives us not only a new way to think about film but also a singular design object.Subtitles is being copublished by The MIT Press and Alphabet City Media (John Knechtel, Director). Subtitles has been funded in part by grants from The Canada Council for the Arts, The Henry N.R. Jackman Foundation, and the Toronto Arts Council, and the Ontario Arts Council.
About the Author
Ian Balfour is Associate Professor of English and Social and Political Thought at York University in Toronto and the author of The Rhetoric of English Poetry.
or
Not Currently Available for Direct Purchase