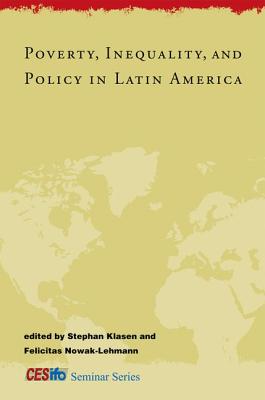 Poverty, Inequality, and Policy in Latin America (CESifo Seminar) (Hardcover)
Mit Press, 9780262113243, 324pp.
Publication Date: February 1, 2009
* Individual store prices may vary.
Description
Experts examine the dynamics of poverty and inequality in Latin America and policies to address them using new tools and data.
High inequality in incomes and assets and persistent poverty continue to plague Latin America and remain a central economic policy challenge for Latin American policymakers. At the same time, dramatically improved methods and data allow researchers to analyze these problems and how they are affected by economic policy. In this book, experts on Latin American economic affairs use these new approaches to examine the dynamics of poverty and inequality in Latin America and the ability of policy to address them. Contributors first analyze the historical evolution of inequality in Latin America, examining such topics as the origins of inequality in colonial land distribution, the impact of educational opportunities on earnings inequality in Brazil, and racial discrimination in Brazil's labor market. Contributors then use sophisticated panel data techniques to analyze the regional dynamics of poverty and inequality in Peru and Brazil, considering whether there are spatial poverty traps and, if so, what determines such traps. Finally, contributors use innovative impact evaluation and modeling techniques to examine specific policy issues: devaluation and dollarization in Bolivia, the Oportunidades conditional cash transfer program in rural Mexico, and the distributional effect of Brazil's tax-benefit system.
Contributors
Rozane Bezerra de Siquiera, Jere R. Behrman, Denis Cogneau, Philippe De Vreyer, Ewout Frankema, J r mie Gignoux, Javier Herrera, Herwig Immervoll, Stephan Klasen, Phillippe G. Leite, Horacio Levy, Sandrine Mespl -Somps, Jos Ricardo Nogueira, Felicitas Nowak-Lehmann, Cathal O'Donoghue, Susan W. Parker, Rainer Schweickert, Gilles Spielvogel, Rainer Thiele, Petra E. Todd, Manfred Wiebelt
About the Author
Felicitas Nowak-Lehmann is a Senior Researcher at the Ibero-American Institute for Economic Research.
or
Not Currently Available for Direct Purchase