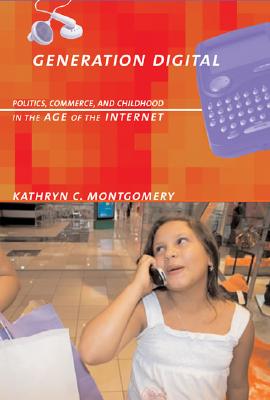 Generation Digital (Hardcover)
Politics, Commerce, and Childhood in the Age of the Internet
MIT Press (MA), 9780262134781, 347pp.
Publication Date: July 13, 2007
Other Editions of This Title:
Paperback (4/1/2009)
* Individual store prices may vary.
Description
Children and teens today have integrated digital culture seamlessly into their lives. For most, using the Internet, playing videogames, downloading music onto an iPod, or multitasking with a cell phone is no more complicated than setting the toaster oven to "bake" or turning on the TV. In Generation Digital, media expert and activist Kathryn C. Montgomery examines the ways in which the new media landscape is changing the nature of childhood and adolescence and analyzes recent political debates that have shaped both policy and practice in digital culture.The media has pictured the so-called "digital generation" in contradictory ways: as bold trailblazers and innocent victims, as active creators of digital culture and passive targets of digital marketing. This, says Montgomery, reflects our ambivalent attitude toward both youth and technology. She charts a confluence of historical trends that made children and teens a particularly valuable target market during the early commercialization of the Internet and describes the consumer-group advocacy campaign that led to a law to protect children's privacy on the Internet. Montgomery recounts--as a participant and as a media scholar--the highly publicized battles over indecency and pornography on the Internet. She shows how digital marketing taps into teenagers' developmental needs and how three public service campaigns--about sexuality, smoking, and political involvement--borrowed their techniques from commercial digital marketers. Not all of today's techno-savvy youth are politically disaffected; Generation Digital chronicles the ways that many have used the Internet as a political tool, mobilizing young voters in 2004 and waging battles with the music and media industries over control of cultural expression online.Montgomery's unique perspective as both advocate and analyst will help parents, politicians, and corporations take the necessary steps to create an open, diverse, equitable, and safe digital media culture for young people.
About the Author
Kathryn C. Montgomery is Professor in the Public Communication Division, School of Communication, at American University, where she directs the Project on Youth, Media, and Democracy. As founder of the Center for Media Education, she led a coalition of advocacy groups in a series of successful media policy campaigns on behalf of children and youth. She is the author of Target: Prime Time: Advocacy Groups and the Struggle over Entertainment Television.
or
Not Currently Available for Direct Purchase