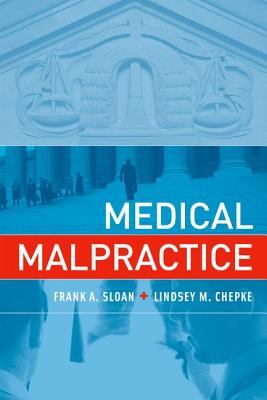 Medical Malpractice (Hardcover)
MIT Press (MA), 9780262195720, 458pp.
Publication Date: February 1, 2008
Other Editions of This Title:
Paperback (8/13/2010)
* Individual store prices may vary.
Description
A comprehensive analysis of medical malpractice from legal, medical, economic, and insurance perspectives that considers why past efforts at reform have not worked and offers recommendations for realistic, achievable policy changes.
Most experts would agree that the current medical malpractice system in the United States does not work effectively either to compensate victims fairly or prevent injuries caused by medical errors. Policy responses to a series of medical malpractice crises have not resulted in effective reform and have not altered the fundamental incentives of the stakeholders. In Medical Malpractice, economist Frank Sloan and lawyer Lindsey Chepke examine the U.S. medical malpractice process from legal, medical, economic, and insurance perspectives, analyze past efforts at reform, and offer realistic, achievable policy recommendations. They review the considerable empirical evidence in a balanced fashion and assess objectively what works in the current system and what does not. Sloan and Chepke argue that the complexity of medical malpractice stems largely from the interaction of the four discrete markets that determine outcomes -- legal, medical malpractice insurance, medical care, and government activity. After describing what the evidence shows about the functioning of medical malpractice, types of defensive medicine, and the effects of past reforms, they examine such topics as scheduling damages as an alternative to flat caps, jury behavior, health courts, incentives to prevent medical errors, insurance regulation, reinsurance, no-fault insurance, and suggestions for future reforms. Medical Malpractice is the most comprehensive treatment of malpractice available, integrating findings from several different areas of research and describing them accessibly in nontechnical language. It will be an essential reference for anyone interested in medical malpractice.
About the Author
Lindsey M. Chepke, an attorney, is a Research Associate at the Center for Health Policy at Duke University.
or
Not Currently Available for Direct Purchase