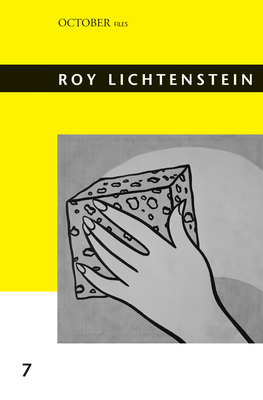 Roy Lichtenstein (October Files #7) (Paperback)
Mit Press, 9780262512312, 216pp.
Publication Date: February 20, 2009
Other Editions of This Title:
Hardcover (2/20/2009)
* Individual store prices may vary.
Description
The most comprehensive collection on Lichtenstein, from the earliest reviews to recent reassessments, including several hard-to-find and previously unpublished pieces.
Roy Lichtenstein's popular appeal--and his influence on pop culture, seen in everything from greeting cards to sitcoms--at times overshadows his importance to contemporary art. Yet, examined on its own terms, Lichtenstein's comics-inspired, deadpan artwork remains as truly unsettling to art-world orthodoxies today as when it first gained wide attention in the early 1960s. Lichtenstein (1923-1997), a central figure in Pop, consistently savaged the rules of painting--while remaining committed to the most traditional procedures and goals of the medium. (He once said, "The things that I have apparently parodied I actually admire and I really don't know what the implication of that is.") This book offers the most comprehensive collection of writings on Lichtenstein's work to appear in thirty-five years, with early reviews, artist interviews and statements (some never before published), and recent reassessments. The book includes Donald Judd's reviews of Lichtenstein's three solo Pop shows in the early 1960s, an essay on the artist's 1969 Guggenheim retrospective, interviews that touch on topics ranging from the New York art world to Monet and Matisse, the transcript of a 1995 slide presentation in which Lichtenstein surveyed three decades of his work, and an in-depth study of Lichtenstein's first Pop painting, Look Mickey (1961). The texts explore Lichtenstein's career across the boundaries of medium and period, excavating early critical discussions and surveying more recent reexaminations of his artistic practice. The collection will be an indispensable resource for those interested in Lichtenstein, Pop Art, and American culture of the 1960s.
Contributors
Graham Bader, Yve-Alain Bois, John Coplans, David Deitcher, Hal Foster, John Jones, Donald Judd, Max Kozloff, Jean-Claude Lebensztejn, Roy Lichtenstein, Michael Lobel
About the Author
Graham Bader is Mellon Assistant Professor of Art History at Rice University. He is the editor of the October Files volume Roy Lichtenstein (MIT Press, 2009).
or
Not Currently Available for Direct Purchase