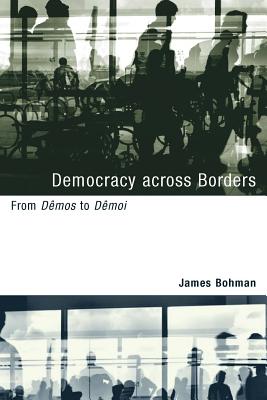 Democracy Across Borders
From Dêmos to Dêmoi (Studies in Contemporary German Social Thought)
Paperback

* Individual store prices may vary.
Other Editions of This Title:
Hardcover (4/6/2007)
Description
An innovative conception of democracy for an era of globalization and delegation of authority beyond the nation-state: rule by peoples across borders rather than by the people within a fixed jurisdiction.
Today democracy is both exalted as the best means to realize human rights and seen as weakened because of globalization and delegation of authority beyond the nation-state. In this provocative book, James Bohman argues that democracies face a period of renewal and transformation and that democracy itself needs redefinition according to a new transnational ideal. Democracy, he writes, should be rethought in the plural; it should no longer be understood as rule by the people (d mos), singular, with a specific territorial identification and connotation, but as rule by peoples (d moi), across national boundaries. Bohman shows that this new conception of transnational democracy requires reexamination of such fundamental ideas as the people, the public, citizenship, human rights, and federalism, and he argues that it offers a feasible approach to realizing democracy in a globalized world.
In his account, Bohman establishes the conceptual foundations of transnational democracy by examining in detail current theories of democracy beyond the nation-state (including those proposed by Rawls, Habermas, Held, and Dryzek) and offers a deliberative alternative. He considers the importance of communicative freedom in the transnational public sphere (including networked communication over the Internet), human rights as the normative basis of transnational democracy, and the European Union as a transnational polity. Finally, he examines the relationship between peace and democracy, concluding that peace requires democratization on interacting state and suprastate levels.
MIT Press, 9780262514101, 219pp.
Publication Date: March 31, 2010
About the Author
Josh Hurwitz, M.D., is a fourth-year resident in Obstetrics and Gynecology at Thomas Jefferson University Hospital. He has been chosen for a Fellowship in Reproductive Endocrinology at Einstein Hospital in New York City.
or
Not Currently Available for Direct Purchase