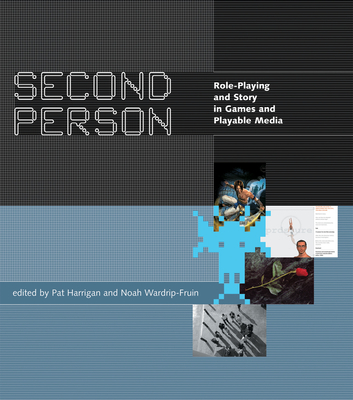 Second Person
Role-Playing and Story in Games and Playable Media
Paperback

* Individual store prices may vary.
Other Editions of This Title:
Hardcover (1/5/2007)
Description
Game designers, authors, artists, and scholars discuss how roles are played and how stories are created in role-playing games, board games, computer games, interactive fictions, massively multiplayer games, improvisational theater, and other "playable media."
Games and other playable forms, from interactive fictions to improvisational theater, involve role playing and story—something played and something told. In Second Person, game designers, authors, artists, and scholars examine the different ways in which these two elements work together in tabletop role-playing games (RPGs), computer games, board games, card games, electronic literature, political simulations, locative media, massively multiplayer games, and other forms that invite and structure play.
Second Person—so called because in these games and playable media it is "you" who plays the roles, "you" for whom the story is being told—first considers tabletop games ranging from Dungeons & Dragons and other RPGs with an explicit social component to Kim Newman's Choose Your Own Adventure-style novel Life's Lottery and its more traditional author-reader interaction. Contributors then examine computer-based playable structures that are designed for solo interaction—for the singular "you"—including the mainstream hit Prince of Persia: The Sands of Time and the genre-defining independent production Façade. Finally, contributors look at the intersection of the social spaces of play and the real world, considering, among other topics, the virtual communities of such Massively Multiplayer Online Role Playing Games (MMORPGs) as World of Warcraft and the political uses of digital gaming and role-playing techniques (as in The Howard Dean for Iowa Game, the first U.S. presidential campaign game).
In engaging essays that range in tone from the informal to the technical, these writers offer a variety of approaches for the examination of an emerging field that includes works as diverse as George R.R. Martin's Wild Cards series and the classic Infocom game Planetfall. Appendixes contain three fully-playable tabletop RPGs that demonstrate some of the variations possible in the form.
Praise For Second Person: Role-Playing and Story in Games and Playable Media…
If you hold the traditional views that games are something you play (such as chess), role playing is something you do (such as acting), and stories are something that a writer writes and a reader reads, brace yourself—this book will turn these ideas inside out. It is a thought-provoking, intimidating, revealing, and encouraging work.—
J. M. Artz
,
Computing Reviews
—
The book is not 100 percent a how-to guide for designing better video games, but rather is a thought-provoker, spanning both the theoretical and the practical.
—
Game Developer
—
The MIT Press, 9780262514187, 427pp.
Publication Date: January 22, 2010
About the Author
Pat Harrigan is a freelance writer and editor, most recently of Zones of Control: Perspectives on Wargaming, coedited with Matthew Kirschenbaum (MIT Press). His work has been published widely and he is the author of a novel, Lost Clusters, and a collection of short stories, Thin Times and Thin Places.

Noah Wardrip-Fruin is Professor of Computational Media at the University of California, Santa Cruz, where he codirects the Expressive Intelligent Studio. He is the author of Expressive Processing: Digital Fictions, Computer Games, and Software Studies (MIT Press).
or
Not Currently Available for Direct Purchase