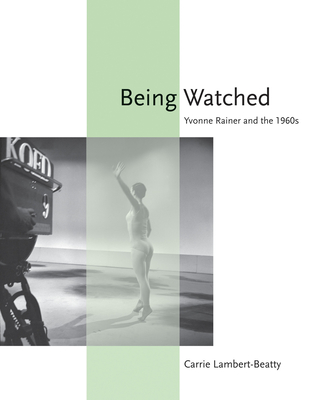 Being Watched
Yvonne Rainer and the 1960s (October Books)
Paperback

* Individual store prices may vary.
Other Editions of This Title:
Hardcover (9/1/2008)
Description
How Yvonne Rainer's art shaped new ways of watching as well as performing; how it connected 1960s avant-garde art to politics and activism.
In her dance and performances of the 1960s, Yvonne Rainer famously transformed the performing body--stripped it of special techniques and star status, traded its costumes and leotards for T-shirts and sneakers, asked it to haul mattresses or recite texts rather than leap or spin. Without discounting these innovations, Carrie Lambert-Beatty argues in Being Watched that the crucial site of Rainer's interventions in the 1960s was less the body of the performer than the eye of the viewer--or rather, the body as offered to the eye. Rainer's art, Lambert-Beatty writes, is structured by a peculiar tension between the body and its display. Through close readings of Rainer's works of the 1960s--from the often-discussed dance Trio A to lesser-known Vietnam war-era protest dances--Lambert-Beatty explores how these performances embodied what Rainer called "the seeing difficulty." (As Rainer said: "Dance is hard to see.") Viewed from this perspective, Rainer's work becomes a bridge between key episodes in postwar art. Lambert-Beatty shows how Rainer's art (and related performance work in Happenings, Fluxus, and Judson Dance Theater) connects with the transformation of the subject-object relation in minimalism and with emerging feminist discourse on the political implications of the objectifying gaze. In a spectacle-soaked era, moreover--when images of war played nightly on the television news--Rainer's work engaged the habits of viewing formed in mass-media America, linking avant-garde art and the wider culture of the 1960s. Rainer is significant, argues Lambert-Beatty, not only as a choreographer, but as a sculptor of spectatorship.
MIT Press, 9780262516075, 384pp.
Publication Date: February 25, 2011
About the Author
Carrie Lambert-Beatty is Assistant Professor in the Department of History of Art and Architecture and the Department of Visual and Environmental Studies at Harvard University.
or
Not Currently Available for Direct Purchase